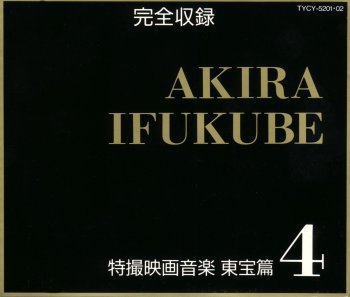 © 2000, 2007 Lawrence Tuczynski
Title:
COMPLETE RECORDINGS -
AKIRA IFUKUBE TOHO SFX FILM MUSIC Vol. 4
CD Label:
Futureland
CD Number:
TYCY-5201~02
Music by:
Akira Ifukube
Number of tracks:
Disc 1: 46
Disc 2: 50
Running time:
Disc 1: 62:56
Disc 2: 59:14
Number of discs:
2
Year of release/manufacture:
1992
REVIEW

August 4, 2001

This is a great 2 CD set concentrating on three films, "Atragon", "Latitude Zero" and "King Kong Escapes".

You get a great mix of wonderful pieces along with several alternate versions of the same songs. The "Atragon" tracks are the same here as the 1996 single disc TYCY-5502. The single disc adds a few sound effects tracks and the audio to a preview trailer. These tracks for the most part mid-tempo with occasional slow tracks. Not much in the way of fast paced action music. Again, the music tracks here for "Latitude Zero" are pretty much the same as for the 1997 single disc TYCY-5506. The single disc adds extra sound effects tracks and audio from the movie trailer. The music tracks are a good mix of different type tunes. You get action, suspense and many mi-tempo pieces. Following suit, the "King Kong Escapes" tracks here are the same as the 1997 single disc TYCY-5507. The single disc adds some alternate takes and sound effects tracks. The "King Kong Escapes" tracks are a mixed bag and contain some recycled music from other Toho films.

All in all another great, but hard to find, Akira Ifukube set. If you already have the single CD's of these soundtracks then there is no need to pick up this CD (if you can find it). Conversely, if you have this disc then you really don't need the single discs unless you really want the few extras on those discs. All of the single discs mentioned above are on Page 3 of this web site.


COMPLETE RECORDINGS - AKIRA IFUKUBE TOHO SFX FILM MUSIC Vol. 4

Track translations courtesy of Jolyon Yates

CD-1

UNDERSEA BATTLESHIP (KAITEI GUNKAN, 1963, aka Atragon)

 1.	Sound Recording used for Credits
 2.	Toho Logo
 3.	Emergence of Vapor Man
 4.	Main Title 
 5.	Warsub Surfaces
 6.	Film Dispatched
 7.	Mu's Warning
 8.	Convening of Special UN Meeting
 9.	Merchant Ship Blows Up
10.	Terror Strikes the World
11.	'The Red Satan'
12.	Warsub Returns to Port
13.	Contact Sphere
14.	Goten Kenmu Group
15.	Makoto's Theme I
16.	Undersea Battleship Test Run I
17.	Undersea Battleship Test Run II
18.	Undersea Battleship Test Run III
19.	Makoto's Theme II
20.	The Nature of the Sea
21.	Prayer of the Kingdom of Mu
22.	Defense Dragon Manda
23.	Mu People of Mt Mihara
24.	Mu's Declaration
25.	Undersea Battleship Sallies Forth I
26.	Undersea Battleship Sallies Forth II
27.	Everything Falls In
28.	Over Tokyo Bay
29.	Tokyo Bay & Undersea Battleship
30.	Rescue
31.	Undersea Battleship vs Manda
32.	Volunteer Party Moves Out
33.	Ending

LATITUDE ZERO (IDO ZERO DAISAKUSEN, 1969)

34.	Sound Recording Used for Credits
35.	Main Title
36.	Bathysphere
37.	Undersea Volcano
38.	'The Alpha' Submarine
39.	164 Years Under the Sea
40.	'The Alpha' vs 'The Black Shark' I
41.	'The Alpha' vs 'The Black Shark' II
42.	'The Alpha' vs 'The Black Shark' III
43.	'The Alpha' vs 'The Black Shark' IV
44.	Entrance of Latitude Zero
45.	Utopian Latitude Zero I
46.	Utopian Latitude Zero II

CD-2

LATITUDE ZERO (continued)

 1.	'The Black Shark' Attacks
 2.	Dr Okada Kidnapping
 3.	Malic & Dr Okada
 4.	Immunity Bath
 5.	Blood Rock Trap
 6.	Gryphon
 7.	Blood Rock Monsters
 8.	McKenzie Intrudes
 9.	Lucretia's Last Moments
10.	'The Black Shark' Appears
11.	Metal Flakes
12.	'The Alpha' Flies Off
13.	'The Gryphon' and 'The Black Shark'
14.	Utopian Latitude Zero III
15.	Noise on Earth
16.	Ending
17.	McKenzie
18.	Blood Rock
19.	Utopian Latitude Zero IV
20.	Latitude Zero Meal I
21.	Latitude Zero Meal II

KING KONG ESCAPES (KINGU KONGU NO GYAKUSHUU, 1967)

22.	Sound Recording used for Credits
23.	Main Title
24.	North Pole Base
25.	Mechanikong Activates I
26.	Mechanikong Activates II
27.	Mondo Island
28.	Enter King Kong
29.	King Kong vs Gorosaurus I
30.	Kong & Susan I
31.	'The Explorer' Returns
32.	King Kong Capture Operation I
33.	King Kong Capture Operation II
34.	North Pole Kong
35.	Kong's Chance Meeting
36.	Hypnotism Device
37.	Element X
38.	King Kong Escapes I
39.	King Kong Escapes II
40.	King Kong in the Metropolis
41.	Kong & Susan II
42.	Kong's Fight
43.	Tokyo Tower Fight I
44.	Tokyo Tower Fight II
45.	King Kong's Victory
46.	King Kong goes to Tokyo Harbor
47.	Dr Who's Last Moments
48.	Ending
49.	King Kong vs Gorosaurus II
50.	Mme Piranha