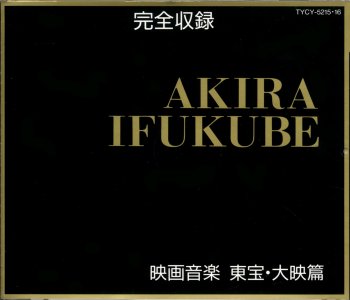 © 2001 Lawrence Tuczynski
Title:
AKIRA IFUKUBE TOHO-DAIEI SFX FILM MUSIC
CD Label:
Futureland
CD Number:
TYCY-5215~16
Music by:
Akira Ifukube
Number of tracks:
Disc 1: 42
Disc 2: 40
Running time:
Disc 1: 69:31
Disc 2: 70:28
Number of discs:
2
Year of release/manufacture:
1992
REVIEW

August 4, 2001

This 2 CD set concentrates on four films, "KING KONG vs GODZILLA ", "LEGEND OF OSAKA CASTLE ", "WHALE-GOD" and "ADVENTURE IN KIGAN CASTLE ". Tracks #1 - #29 from "KING KONG vs GODZILLA " are in Stereo here while the rest of the tracks are in Mono. Disc 2 is all Mono as well.

The only movie I've seen from this bunch is "King Kong vs Godzilla". I did notice these films star two of my favorite Japanese actors, Shintaro Katsu of the "Zatoichi" films and Toshiro Mifune who has been in many of Akira Kurosawa's films as well as many other Japanese and a few US films.

This is CD is the first official release by Futureland to have stereo tracks of "King Kong vs Godzilla". A few other CD's on this site have the stereo tracks that came out after this. These tracks speak for themselves and are really great. The rest of the 2 CD set contains a mixture of musical styles and is entertaining. Most of the tracks tend toward the slow, somewhat melancholy side. All in all another great, but hard to find, Akira Ifukube set.


Title:	AKIRA IFUKUBE TOHO-DAIEI SFX FILM MUSIC

Track translations courtesy of Jolyon Yates

Disc 1

KING KONG vs GODZILLA (1962)

 1.	Main Title
 2.	World Wonders Series
 3.	Shining Iceberg
 4.	Crisis of  'The Seahawk'
 5.	'The Seahawk' SOS
 6.	Faro Island
 7.	Natives
 8.	Thunder & Demon ~ Fumiko's Worry
 9.	Godzilla Rebirth
10.	Faro Island Investigation
11.	Demon's Cry ~ Prayer to the Sound of Thunder
12.	South Sea Demon ~ Giant Octopus vs King Kong
13.	Sleeping Demon-god
14.	Horror of Godzilla
15.	King Kong's Non-Dead Body ~ Preparation for Burial
16.	King Kong vs Godzilla I
17.	Preparation for Million-volt Operation
18.	Burial Operation
19.	Burial Operation Unsuccessful
20.	Million-volt Operation I
21.	Million-volt Operation II
22.	Godzilla Appears in Tokyo
23.	Fumiko's Rescue Plan
24.	King Kong Transportation Plan
25.	King Kong to Mt Fuji
26.	Mt Fuji Showdown
27.	King Kong Revival
28.	King Kong vs Godzilla II
29.	Ending

LEGEND OF OSAKA CASTLE
(OSAKA-JO MONOGATARI, 1961,aka Daredevil in the Castle, dir Inagaki Hiroshi,
 str MifuneToshiro, Yamada Isuzu, Hoshi Yuriko, Hirata Akihiko)

30.	Sound Recording used for Credits
31.	Yodogimi's Anger
32.	Main Title
33.	Military Crisis
34.	Stratagem
35.	Ai Deliverance
36.	Reinforcements Enter the Castle
37.	Rescue the Noblewoman
38.	Armament Convoy
39.	Shigeru Hyoe's Plan
40.	Kanto Forces Attack
41.	Shigeru Hyoe Rout
42.	Ending

Disc 2

WHALE-GOD (KUJIRA-GAMI, 1962, dir Tanaka Takuzo, str Katsu Shintaro)

 1.	Sound Recording used for Credits
 2.	Devil-god of the Sea
 3.	Main Title
 4.	Vow of Vengeance
 5.	Shaki's Older Brother's Challenge
 6.	Rage at Shatsu
 7.	Shaki & Yuki
 8.	Shaki's Feelings
 9.	Toyo
10.	Village Elder's Resolution
11.	Shaki & Ei
12.	Young Couple
13.	Shaki Entrusts Yuki to Kasuke
14.	Stabbing Dance I
15.	Shaki's Prayer
16.	Discovery
17.	Baptism
18.	Yohe's Advice
19.	Stabbing Dance II
20.	Whale-god Final Battle
21.	Shaki & Whale-god
22.	Shaki & Whale-god II
23.	Death-fight Ato
24.	I am Whale-god!

ADVENTURE IN KIGAN CASTLE
 (KIGANJO NO BOKEN, 1966, aka Adventures of Takla Makan, 
  dir Taniguchi Senkichi, str Mifune Toshiro)

25.	Sound Recording used for Credits
26.	Main Title
27.	Silk Road
28.	Will-o'-the-wisp
29.	Black Bandit Raid
30.	Mesaka Temple
31.	Buddha's Remains
32.	Drunken Priestly Hermit
33.	Witch of the Uncanny Fire
34.	Goljyaka's Protection
35.	Run Osumi
36.	Osumi's Crisis
37.	Renewed Resolve
38.	King's Change of Heart
39.	Death-fight in the Palace
40.	Ending