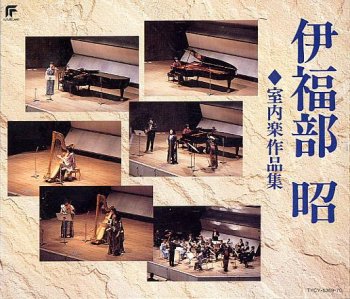 © 2001 Lawrence Tuczynski
Title:
Akira Ifukube Chamber Music
CD Label:
Futureland
CD Number:
TYCY-5369~70
Music composed by:
Akira Ifukube
Number of tracks:
Disc 1: 8
Disc 2: 5
Running time:
Disc 1: 57:07
Disc 2: 43:55
Number of discs:
2
Year of release/manufacture:
1994
REVIEW

November 3, 2001

This is a well done CD of chamber music that was recorded in 1993 in the Tokyo Cultures Hall. The flavor of this CD is more slanted toward Classical music than film music and is not for those looking for action oriented, loud, fast music. Most of the music on these CD's is of the slow, mellow type although there are a few passages that actually sound like they would fit in nicely as part of the score to an old time mystery movie. Most of the pieces on these CD's heavily favor piano and violin and they stand out in the small orchestra.

I really enjoyed listening to this set and it would be great music to put on when you just want to kick back in your favorite chair and relax after a stressful day. This CD is very hard to find and won't be cheap if you do find it.


Title:	Akira Ifukube Chamber Music
Track listing courtesy of Jim Figurski

Disc 1

Piano suite
1.	Bon-odori
2.	Tanabata
3.	Nagashi
4.	Nebuta

Violin Sonata
5.	Allegro
6.	Andante-cantilena
7.	Allegro Vivace

8.	Sea of Okhotsk

Disc 2

1.	Kugoka per harp solo
2.	The lake kimtaankamuito

Triptyque Aborigene pour orchestra de chamber
3.	Payses, "tempo di jimkuu"
4.	Timbe [non regional]
5.	Pakkai- "Chant d' Ainu"