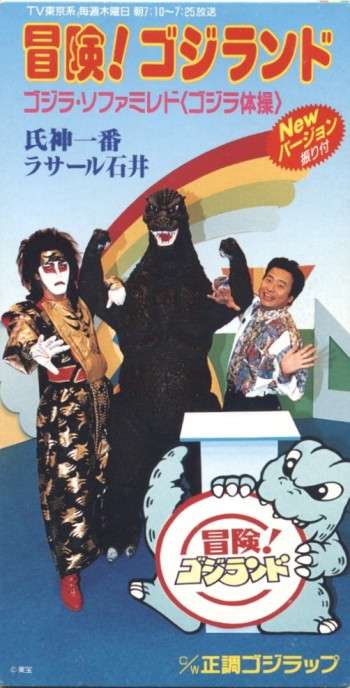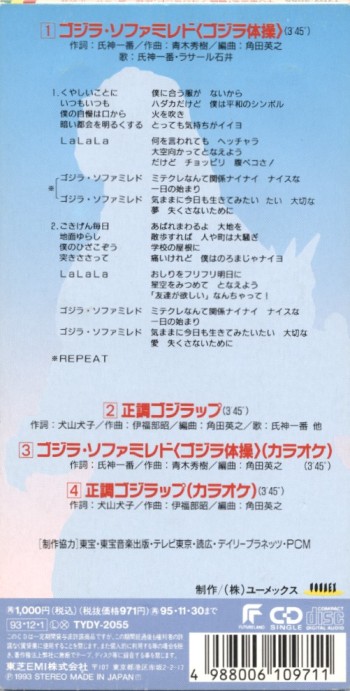 © 2003 Lawrence Tuczynski
Title:
"Godzilla - Musical Scales (Godzilla Exercises)"
"GODZI-RAP (Ambient Mix)" [CD-S]
[reissue of TYDY-2042]
CD Label:
Futureland
CD Number:
TYDY-2055
Music composed by:
Hideki Aoki & Akira Ifukube
Number of tracks:
4
Running time:
15:00
Number of discs:
1
Year of release/manufacture:
Dec. 01, 1993
REVIEW

October 03, 2003

This CD single is not bad. Nothing much we haven't heard before. These songs also appear on "Godzilla vs. Mothra" (TYCY-5267~68). The first track is vocal with a male voice and children's chorus. It's a very catchy pop vocal with occasional Godzilla roars sprinkled in. Track 2 is the one I've heard before that sounds like someone on speed that has sucked helium out of a balloon and is about Godzilla with an occassional Mothra thrown in. This is one of those weird type songs that stick in your brain long after you've heard it. They also toss in various sound effects like racing cars, a jackhammer, a car trying to start and others. Track 3 is a replay of track one but more instrumental and without the male voice, just the children. Track 4 is an instrumental version of track 2.

Additional info courtesy of Sam Scali, October 05, 2003

Both of these songs also appear as the last 2 tracks (in reverse order from the single) on the 2-disc "AKIRA IFUKUBE COMPLETE RECORDINGS VOL 9 - GODZILLA VS. MOTHRA" (TYCY-5267~68). The single is apparently a reissue of a single released the previous year (TYDY-2042) with a different cover.
Translations courtesy of Jolyon Yates
"GODZI-RAP (Ambient Mix)" [CD-S]
[reissue of TYDY-2042]
GODZILLA MUSICAL SCALES (GODZILLA EXERCISES) (3:45)
Lyrics: Ichiba Ujikami
Composer: Hideki Aoki
Vocals: Ichiba Ujikami, Russell Ishii
TRADITIONAL GODZILLA RAP (3:45)
Lyrics: Enoko Inuyama
Composer: Akira Ifukube
Vocals: Ichiba Ujikami et al
GODZILLA MUSICAL SCALES (GODZILLA EXERCISES) (KARAOKE) (3:45)
Lyrics: Ichiba Ujikami
Composer: Hideki Aoki
TRADITIONAL GODZILLA RAP (KARAOKE) (3:45)
Lyrics: Enoko Inuyama
Composer: Akira Ifukube