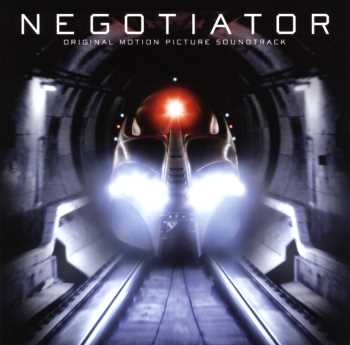 © 2007 Lawrence Tuczynski
Title
Negotiator (Kôshônin Mashita Masayoshi)
CD Label
Universal Sigma
CD Number
UMCK-9113
Music Composed by:
Akihiko Matsumoto
(except "Santa Claus Is Coming To Town" and "Bolero")
Number of tracks
18
Running time
52:52
Number of discs
2
Year of release/manufacture
April 27, 2005
REVIEW

January 08, 2007

This 2005 film is about Japan's #1 negotiator Mashita Masayoshi being called into action again as a mysterious train terrorizes Tokyo's underground railway network. But this time his opponent is gunning for him personally. I have not seen the film so don't know how well the music works in the film.

The soundtrack is quite strange from a pure listening experience perspective. Without having seen the film I have no idea why two versions of "Santa Clause Is Coming To Town" appear in the soundtrack as well as a version of the classical piece of Ravel's "Bolero". Even the rest of the music while quite entertaining and fitting for an action picture display a wide mishmash of styles. Some sounds techno, some jazzy, some like regular action picture scoring and a few other styles. It's real soup of musical styles. Overall though it isn't bad and I found myself enjoying it.

This CD is a 2 disk set with disc 1 being the CD soundtrack and disc 2 being a DVD containing 4 movie trailers, a movie digest and an interview with Akihiko Matsumoto. This DVD appears to be an all region playable DVD. Something else strange about this set is the fact that the tri-fold booklet is 98% in English and the track titles are also listed in English. When you load the DVD, the majority of the menu titles are in English yet all the dialogue and speaking is Japanese only with no choice for subtitles of any kind.
Negotiator (Kôshônin Mashita Masayoshi)
The Crook ~ Part 1 ~
Santa Clause Is Coming To Town - Sung by The Temptations
The Underground Crisis
Kumo E4-600
Electro
Tequeno-Man
Mysterious Zone
Chase On The Rail
The Line Detectives
Tribal Fair
Fighting Brothers
Little Lights Of Love
Unity II
The Negotiator 2005
Bolero by Ravel
The Crook ~ Part 2 ~
Little Lights Of Love (Full Scored Ver.)
Santa Clause Is Coming To Town - Sung by The Jackson 5