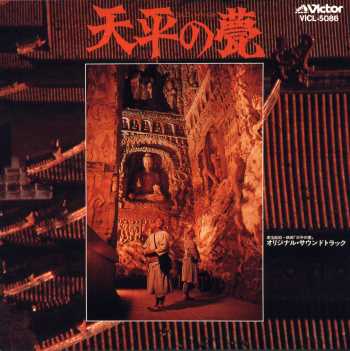 © 2006 Lawrence Tuczynski
ALL scans and info on this page courtesy of Jurgen Himmelmann
Title
An Ocean to Cross
(aka TILED ROOF OF TENPYO)(1980)
Japanese Title
TENPYO NO IRAKA
CD Label
Victor
CD Number
VICL-5086
Music by:
Toru Takemitsu
Number of tracks
17
Running time
35:38
Number of discs
1
Year of release/manufacture
August 21, 1991
REVIEW

February 08, 2006
Courtesy of Jurgen Himmelmann

Toru Takemitsu is one of the most popular Japenese film- and concert composers. I never saw the movie "An Ocean to Cross" so I can't write something about it.

Takemitsu's style is completely different compared to Akira Ifukube. Here the music mostly is suspenseful with a light religious touch. I think people who like "Ran" will like this score, too.

This Victor CD is made the same way like many other Victor CDs of this time, for example there are optical similarities to "The Last War" and like the Ikuma Dan score this CD is for a long time out-of-print. I' m not sure if it has all of the music , but definitely this score is included in one of the new "Toru Takemitsu Complete Edition Box-sets".
Title: An Ocean to Cross
Translations courtesy of Jolyon Yates
Parting
Homesickness
Journey
Road to Nagayasu(?)
Nara
Death of Kaiyu(?)
Stone Cave
Yellow Earth Road
Tiled Roof of Tenpyo
Sea
Death of Yoei
Reunion
Chinese Music
Mt Tendai
Funeral Procession
Road to Katsubayashi
Finale