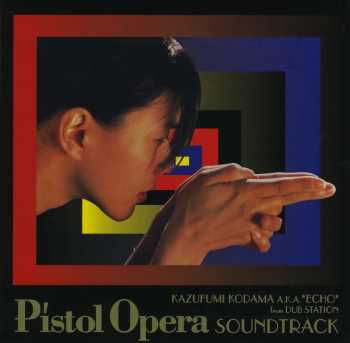 © 2011 Lawrence Tuczynski
Pictures and info courtesy of John Emmons
Title
Pistol Opera
(Pisutoru Opera)
CD Label
Victor Entertainment
CD Number
VICL-60786
Music Composed by:
Kazufumi Kodama
(A.K.A."ECHO" from DUB STATION)
Number of tracks
11
Running time
24:35
Number of discs
1
Year of release/manufacture
September 19, 2001
REVIEW

September 5, 2011 Review by John M Emmons

"Pistol Opera" is Seijun Suzuki's surreal film about a female assassin known as "Stray Cat," ranked number three in her guild, and her struggles to become number one while her fellow colleagues die, one by one, by the current No. 1 assassin, "Hundred Eyes."

The film may be known for its striking visuals or even its off-the-wall story, but there doesn't seem to be a great emphasis on the music. One could tell just by looking at the running time. Though, to be fair, I'm certain the soundtrack is not a complete representation of the music in the film.

What doesn't help is that the soundtrack is arranged, not chronological, but by theme. (For instance, track two is the end credits.) Many listeners may get weary from variation after variation of a single theme. In this regard, the short running time works for the soundtrack and not against it.

What makes up for the lack of music is a fairly substantive booklet with photos and information on the film. Sadly, according to CD Japan, the booklet is only available in the first printing and may be no longer available with current copies on sale.
Pistol Opera (Pisutoru Opera)
Theme 1 Theme of Stray Cat (trumpet solo/slow)
Theme 2 Theme of Stray Cat (meets EGO-WRAPPIN')
Theme 3 Theme of Stray Cat (strings + piano version)
Theme 4 Theme of Stray Cat (steelpan solo)
Theme 5 Blues to Kill
Theme 6 Theme X (main version)
Theme 7 Theme X (piano version)
Theme 8 Theme X (trumpet solo)
Theme 9 ULUK (steelpan solo)
Theme 10 FLAG (trumpet solo)
Bonus Track: Theme of Stray Cat (featuring TICO from Little Tempo)