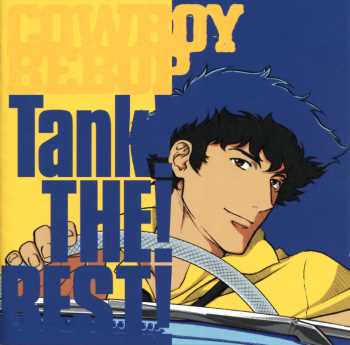 © 2006 Lawrence Tuczynski
| | |
| --- | --- |
| Title | Cowboy Bebop - TANK! THE! BEST! |
| CD Label | Victor Entertainment, Inc. |
| CD Number | VICL-61543 |
| Music Composed by: | Yoko Kanno |
| Music Performed by: | Seatbelts |
| Number of tracks | 12 |
| Running time | 50:54 |
| Number of discs | 1 |
| Year of release/manufacture | December 22, 2004 |
REVIEW

I had seen the name "Cowboy Bebop" around but never paid much attention to it. I figured it had to do with Anime and although I know Anime is popular these days, it's just not my cup of tea. However a friend recently gave me this CD and when I started playing it was very pleasantly surprised at how much I enjoyed the music on this CD. Apparently this particular CD is a greatest hits type CD. After listening to this one I want more. The music on this CD is comprised of many styles. I hear songs with jazz, blues, pop and other styles. I didn't hear a single track that I didn't like. A lot of CD's these days take repeated listening to really grab you but this one clutched me by the throat the first time through. :-) Even though this is a Japanese release by a Japanese composer, the booklet and music on the CD is mostly in English. It also says in the booklet that the CD was recorded and mixed in New Jersey, USA.

This specially priced compilation CD contains 9 select tracks from the Cowboy Bebop anime and 3 all new tunes from the Cowboy Bebop Playstation 2 game. If you enjoy a variety of different genres of music, I highly recommend this disc.
Cowboy Bebop - TANK! THE! BEST!
Tank! (TV Stretch)
WHAT PLANET IS THIS.
COSMIC DARE (Pretty with a Pistol)
DIAMONDS
Don't bother none (TV Edit)
PIANO BLACK
Mushroom Hunting
No Repley
BLUE
EINSTEIN GROOVIN
PEARLS
Gotta knock a little harder