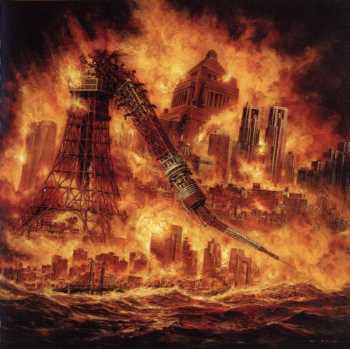 © 2006 Lawrence Tuczynski
| | |
| --- | --- |
| Title | SUBMERSION OF JAPAN Original Soundtrack |
| CD Label | Victor Entertainment, Inc. |
| CD Number | VICL-62028 |
| Music Composed & Conducted by: | Taro Iwashiro |
| Music Performed by: | The Tokyo Metropolitan Orchestra |
| Number of tracks | 13 |
| Running time | 53:02 |
| Number of discs | 1 |
| Year of release/manufacture | July 26, 2006 |
REVIEW

October 08, 2006

This CD is the sound track to a recent 2006 remake of the 1973 movie titled "Submersion Of Japan" (Nihon chinbotsu ). I have never had the opportunity to see either the original or this remake but hope to find a subtitled or dubbed copy someday. It sounds like an interesting movie. The soundtrack here is very well done and for the most part contains somewhat slow moving queues that you could easily see being in a disaster movie. The only exception being track 13 which is a mid tempo female vocal track.

Additional review courtesy of David Hirsch's Collectors Den on the CD Japan website.
Find it at: http://www.cdjapan.co.jp/collectors_den/index.html.

Taro Iwashiro, who was part of the creative team behind the fantastic score to "Azumi", delivers an emotionally charged orchestral score to this remake of the classic 1973 disaster film. It's a superb piece of work that supports the main trust of Sakyu Komatsu's original novel. As oceans rise and cities fall, the core of the story is really how to evacuate millions of people and the potential loss of a unique and rich culture. The CD booklet features the four beautiful poster art renderings without text. Also featured on the CD is the signature tune "Keep Holding U" by SunMin than X KUBOTA.
SUBMERSION OF JAPAN Original Soundtrack
Track titles courtesy of Jolyon Yates
Behold Tomorrow
Record of These Living Things
End of Utopia
Reflect Upon the Gravemarker
Who Will Inherit?
Peace in The Earth
[?]Flow [?]
Rain & Wind & Evening Light Upon Them
Night is Lightening
Gordian Knot ~ Long Road to the Gods
Japan Here...
Resurrection Day

Special Alternative Record

Keep Holding U by SunMin thanX Kubota