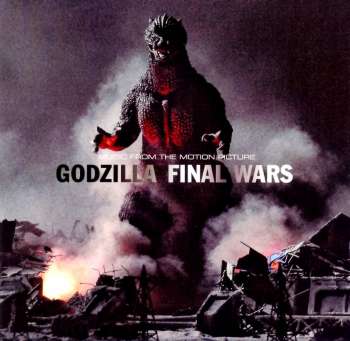 © 2004 Lawrence Tuczynski
Title:
GODZILLA FINAL WARS
Japanese Title:
Gojira: Fainaru uôzu
CD Label:
Victor Record Co.
CD Number:
VICP-62936
Music by:
KEITH EMERSON
DAISUKE YANO
NOBUHIKO MORINO
AKIRA IFUKUBE
Number of tracks:
29
Running time:
69:07
Number of discs:
1
Year of release/manufacture:
December 22, 2004
REVIEW

December 23, 2004

Pretty fast service. The CD was officially released yesterday and I received it this morning from CD Japan. A better review will be coming later but based on this first listen, the soundtrack is better than I expected. It's certainly different from most of the others and has a definite techno flavor to it. Except for the brief appearances of some Ifukube music, you would never suspect this to be a Godzilla soundtrack. The synth techno music does start to get a little repetitious and grating after awhile. Overall it's not a bad soundtrack but not exactly what I'd expect from a "final" Godzilla movie celebrating 50 years. I do look forward to the opportunity to see the movie whenever the chance may arise.

Updated January 14, 2005

I have now listened to this several times. My overall impression hasn't changed much. Overall I still like the music on this CD. As might be expected by a Keith Emerson project, a lot of the music has an "Emerson, Lake & Palmer" feel to it. There is a lot of synth work on here and hopefully the music works well in the film (I haven't seen it yet). It sounds too much like most modern soundtracks these days to action movies. I guess I'm old school but except for the few homages on this CD, this just doesn't sound like a "Godzilla" soundtrack to me. Even the homage pieces sound like something you might find a CD of a band doing a "Best Of Godzilla". While yes, I am a die hard Akira Ifukube fan, there have been several other Godzilla soundtracks I have enjoyed that were non Ifukube but still sounded Godzilla-ish. This one doesn't to me. I feel let down for something as important as a 50th anniversary of the big guy. I will certainly see the film once I get an opportunity and hope it works better in the film. Otherwise, I really have no complaints about the music itself. It's well done and about what I'd expect to find in a modern anime film. It's an enjoyable stand alone listen.
GODZILLA FINAL WARS
THEME OF GODZILLA(Akira Ifukube) / AKIRA IFUKUBE
THE KING OF MONSTERS(Daisuke Yano) / DAISUKE YANO
THE BEGINNING OF THE END(Nobuhiko Morino) / NOBUHIKO MORINO
MANDA VS GOTENGO(Keith Emerson) / KEITH EMERSON
MANDA VS GOTENGO PART 2(Keith Emerson) / KEITH EMERSON
TRAINING FACILITY FIGHT(Keith Emerson) / KEITH EMERSON
EDF MUSEUM(Keith Emerson) / KEITH EMERSON
INFANT ISLAND(Keith Emerson) / KEITH EMERSON
RODAN ATTACKS N.Y.C(Keith Emerson) / KEITH EMERSON
THE ARRIVAL(Daisuke Yano) / DAISUKE YANO
THE PROOF(Nobuhiko Morino) / NOBUHIKO MORINO
REVEAL(Nobuhiko Morino) / NOBUHIKO MORINO
HIGH BATTLE(Keith Emerson) / KEITH EMERSON
OPERATION:FINAL WAR(Nobuhiko Morino) / NOBUHIKO MORINO
AREA G(Nobuhiko Morino) / NOBUHIKO MORINO
RETURN OF THE KING(Daisuke Yano) / DAISUKE YANO
READY FOR RUMBLE(Daisuke Yano) / DAISUKE YANO
KAZAMA'S SACRIFICE(Keith Emerson) / KEITH EMERSON
BACK IN ACTION(Nobuhiko Morino) / NOBUHIKO MORINO
AWAKEN(Daisuke Yano) / DAISUKE YANO
FIGHT BACK(Daisuke Yano) / DAISUKE YANO
THE RISING(Daisuke Yano) / DAISUKE YANO
ENDING TITLE(Keith Emerson) / KEITH EMERSON
AWAKENING G.(Keith Emerson) / KEITH EMERSON
RESPECT G.(Keith Emerson - Akira Ifukube) / KEITH EMERSON
FIRST MEETING(Keith Emerson) / KEITH EMERSON
MONSTER ZERO MARCH(Akira Ifukube) / AKIRA IFUKUBE
CRUISING THE CIRRO-STRATUS(Keith Emerson) / KEITH EMERSON
GODZILLA MAIN THEME(Akira Ifukube) / KEITH EMERSON