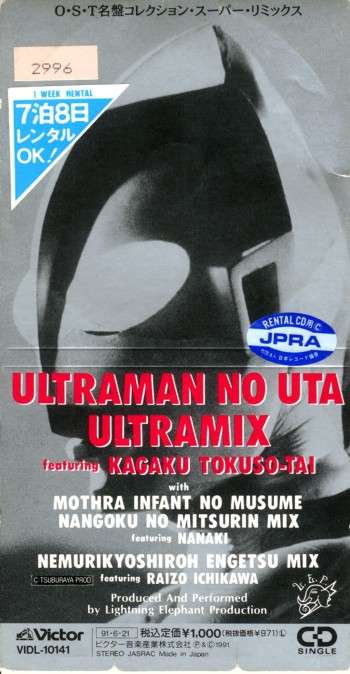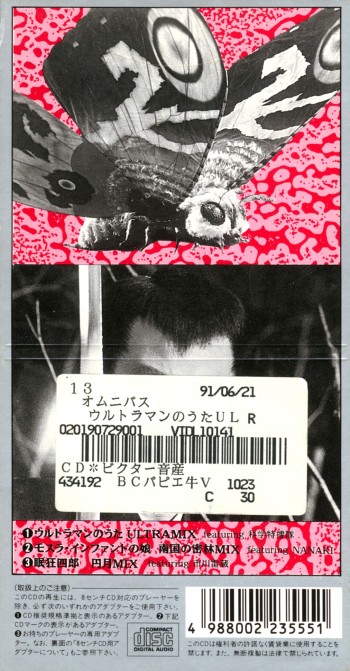 © 2003 Lawrence Tuczynski
Title:
Ultraman's Song Ultramix (Single)
Japanese Title:
Ultraman No Uta Ultramix (Single)
CD Label:
Victor
CD Number:
VIDL-10141
Music by:
Kagaku Tokuso-Tai
with Nanaki
Number of tracks:
3
Running time:
11:24
Number of discs:
1
Year of release/manufacture:
06-21-1991
REVIEW

Jan. 1, 2003

This is a good but strange CD single. The title is "ULTRAMAN'S SONG ULTRAMIX" and has a picture of Ultraman on the front cover but this is the only song that has anything to do with Ultraman. The back cover shows a picture of Mothra and Raizo Ichikawa. Unfortunately this disc appears to be a rental unit of some kind and Raizo Ichikawa's picture is covered with a label that won't come off without damaging the picture underneath.

The first track is a very familiar sounding Ultraman song with sound effects and vocals. It's nicely done and upbeat. Track 2 is the Mothra track and is very different from any I have heard. At the beginning is a male chorus doing a kind of grunting noise. This is interspersed with Mothra sound effects before the Mothra vocal starts. The grunting continues in the background throughout the song. This version of one of the Mothra songs is done by Nanaki, an artist I know nothing about, but sounds very close to the original. Overall this is a very pleasant but different sounding track. Track 3 starts off with the sounds of wind blowing and dialogue from one of Raizo Ichikawa's movies. It also has a nice bass beat in the background. The track itself is difficult to describe but is also different from the other two.

I'm very glad I was able to get this CD single as I really enjoyed all the tracks.
Ultraman No Uta Ultramix (Single)
Translations courtesy of Jolyon Yates
ULTRAMAN'S SONG ULTRAMIX
featuring Special Science Search Party
Lyrics by Kyoichi, composed by Miyauchi Kunio, arranged by Gakuruko Atsushi
Sung by the Misuzu Children's Choir
MOTHRA, DAUGHTER OF INFANT
South Country Jungle Mix
Lyrics by Ike Susumu, composed by Gakuruko Atsushi
Sung by Nanaki
KYOSHIRO NEMURI FULL MOON MIX
featuring Raizo Ichikawa
vocal performances by Raizo Ichikawa & Co.

Raizo Ichikawa was the star of the first nine Kyoshiro Nemuri (aka Son of the Black Mass) samurai films from 1962 to 1969. The "Full Moon Cut" is the hypnotic circular sword style of Nemuri, also known as the Engetsu style.