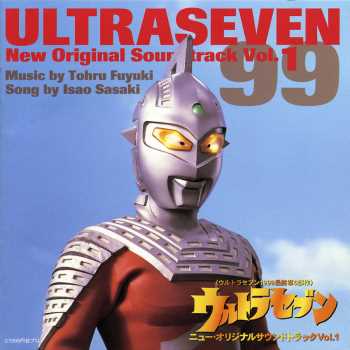 © 2007 Lawrence Tuczynski
Cover picture and all info courtesy of John M Emmons
| | |
| --- | --- |
| Title | Ultraseven '99 New Official Soundtrack Volume One |
| CD Label | VAP Inc. |
| CD Number | VPCD-81303 |
| Music Composed by: | Tohru Fuyuki |
| Music Performed by: | Isao Sasaki |
| Number of tracks | 50 |
| Running time | 67:34 |
| Number of discs | 1 |
| Year of release/manufacture | August 21, 1999 |
REVIEW

January 03, 2007

As a testament to his popularity, Ultraseven returned to television with a new series of live action specials in 1999. Returning with him would be composer Tohru Fuyuki who worked on the original Ultraseven series.

I was surprised to find that many of the songs, especially towards the middle of the album, sound very much like classical music. But don't worry. The album also features new recordings of all the famous themes from the original series.

In fact, if there's one thing wrong with this album, it's that it seems that Fuyuki favored using the original themes instead of creating new themes or even new variations. Meaning that if you own the soundtrack from the original series, you will already be familiar with much of the music here. Still, it's an enjoyable listen, and the booklet is full of pictures from the show and, of course, Japanese text.
Ultraseven '99 New Official Soundtrack Volume One
English track title translations courtesy of Jolyon Yates
Main Title (1999 Edition)
Prologue from Space
Ultra Seven Song 99 (video size) Song: Isao Sasaki
Peace
Invader
Ultra Guard Sortie
Free Way
Action
Action Suspense Mix
Threat
Ultra Guard Troubles
Darkness Horror
Monster Appearance
Charge Timpani
Ultra Seven Appears
Ultra Seven Song Instrumental
Tension
Lament Ballad
Sadness Ballad
Brilliant Savannah
Tenderness
Sieste 1999
Concerto for Flute & Piano 1999
Ultra Guard Relief
At the Beach
Dark Cloud
Outer Space
Broad Daylight Mystery Zone
Deployment
Ultra Guard Calming Sortie
Ultra Guard Sortie 2
Ultra Seven 99 (version 2) Song: Isao Sasaki, chorus Shinichi Ishihara, Naoto Fuga
Secret Highway
Impact Timpani
Labyrinth
Attack
Monster Appearance 2
Impact Timpani
Scramble
Ultra Seven Appearance 2
Charge
Ultra Seven Ballad Instrumental ~ Showdown
Ultra Seven Instrumental
Talk of That Time
Ending
Ultra Seven Ballad (video size)
Preview Music

Extra Tracks

Ultra Seven Song 99 (full size, karaoke with chorus)
Ultra Seven 99 (karaoke with chorus)
Ultra Seven Ballad (video size karaoke)