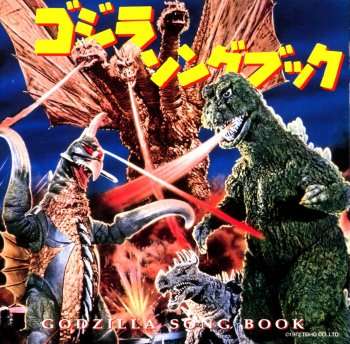 © 2001 Lawrence Tuczynski
| | |
| --- | --- |
| Title | Godzilla's Songbook |
| CD Label | VAP Inc. Records |
| CD Number | VPCD-81381 |
| Music by: | Various |
| Number of tracks | 25 |
| Running time | 76:28 |
| Number of discs | 1 |
| Year of release/manufacture | 2001 |
REVIEW

August 13, 2001

This newly released CD appears to be a CD version of an older LP. I say this for two reasons: 1) Despite just being released, on the lower right hand side of the cover photo is a copywrite symbol and 1972 Toho Co., Ltd. and 2) the CD label is a picture of a vinyl LP.

The music on this CD is a mixed bag. Some of these tracks you'll love, some you will hate and others you won't care about one way or the other. It's listed as a vocal CD but that's not entirely accurate. Track #1 is a short instrumental suite of Godzilla themes and Tracks #18-25 are all instrumental tracks as well. Track #24 & #25 do have a little choral type voices in places but are mostly instrumental in nature. The rest are vocal tracks. And before anyone e-mails me asking, "NO! "Save The Earth" from Godzilla vs Hedorah (Smog Monster) is NOT on this CD". All vocal tracks are from before that series began. Some of these tracks appear to be from the movie soundtracks but others are not familiar to me. Some may be rercordings or never appeared in any movie. Track #2 for me was the worst. It's a Christmas song done with and overlay of Mexican music. Track #8 sounds like cowboy music. The instrumental tracks, #18-25, for the most part sound like typical early 70's funk complete with synthesizers, wah wah pedals and other effects. They almost sound like something you'd hear as background music for old TV shows from the early 70's.

Since this is such a mixed bag of stuff ranging from good to mediocre to bad, it would be hard for me to recommend this CD to anyone but us Godzilla completists. I wouldn't think the casual listener would enjoy it much.
English Title: Godzilla's Songbook
Translations courtesy of Jolyon Yates
(NOTE: Most names here are new to me and the characters can be pronounced in several ways, so they're just my best guesses. JY)
Album Opening

Godzilla Revives (KING KONG vs GODZILLA, 1962, Original Background Music)
Music: Ifukube Akira

Toho Records Singles Collection



Monster Christmas (Dec 1 1970/AS-1027)
Monster Game (Monster Christmas B-Side)
Vocal: Raimon Kenbo Lyrics: Sakaguchi Daiichiro Music: Watanabe Takemi
Go! Go! Godzilla (Dec 1 1971/ DU-1001)
Vocal: Ishikawa Susumu Lyrics: Sekizawa Shinichi Music: Ogihara Tetsuaki
Note: Tie-in song with re-release of GHIDORAH THE THREE-HEADED MONSTER
Benificent Mothra (Dec 1 1971/DU-1002)
Vocal: Matsumura Sachiko Lyrics: Yuki Koji Music: Tsutsui Hiroshi

From GODZILLA vs GIGAN (1972)



Godzilla March (Feb 1 1972/DU-1003)
Gigan Attack (Godzilla March B-Side)
(Tracks 6 & 7 Vocal: Ishikawa Susumu Lyrics: Sekizawa Shinichi Music: Miyaguchi Danro)
Bride of Godzilla (July 1 1972/DS-1004)
Rock Rock Godzilla (Bride of Godzilla B-Side)
(Tracks 8 & 9 Vocal: Chikamon Makoto Lyrics: Mozu Shohei Music: Kase Kunihiko, Watanabe Shigeki)

From GODZILLA vs MEGALON (1973)



Godzilla & Jet Jaguar: Punch Punch Punch (March 1 1973/DT-1006)
Attack Megalon (Godzilla & Jet Jaguar: Punch Punch Punch B-Side)
(Tracks 10 & 11 Vocal: Chikamon Makoto Lyrics: Sekizawa Shinichi Music: Manabe Riichiro)

From GODZILLA vs MECHAGODZILLA (1974)



Prayer of Myarabi (March 25 1974/DT-1004)
Attack Mechagodzilla (Prayer of Myarabi B-Side)
(Tracks 12 & 13 Vocal: Belevera Lean Lyrics: Fukuda Jun Music: Masaru Sato)

Rare Version Collection



Godzilla March (Choral Cut Version)
Gigan Attack (Choral Cut Version)
(Tracks 14 & 15 Vocal: Ishikawa Susumu Lyrics: Sekizawa Shinichi Music: Miyaguchi Danro
Bride of Godzilla (Alternative Version)
Rock Rock Godzilla (Alternative Version)
(Tracks 16 & 17 Vocal: Chikamon Makoto Lyrics: Mozu Shohei Music: Kase Kumihiko, Watanabe Shigeki)

Original Karaoke Collection



Godzilla March
Gigan Attack
Bride of Godzilla
Rock Rock Godzilla
Bride of Godzilla (Alternative Version)
Rock Rock Godzilla (Alternative version)
Godzilla & Jet Jaguar: Punch Punch Punch
Attack Megalon