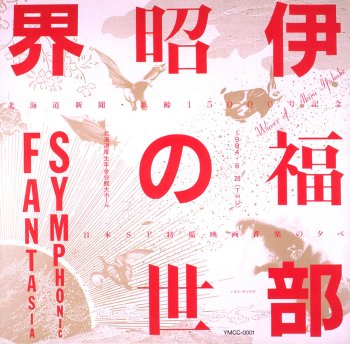 © 2001 Lawrence Tuczynski
| | |
| --- | --- |
| Title | Symphonic Fantasia |
| CD Label | Futureland/Toshiba EMI Ltd. |
| CD Number | YMCC-0001 (PROMO) |
| Composed and Arranged by: | Akira Ifukube |
| Number of tracks | 4 |
| Running time | 54:51 |
| Number of discs | 1 |
| Year of release/manufacture | 1994 |
REVIEW

June 16, 2001

This is a great sounding stereo 4 track CD. It's a promo only CD that I was fortunate enough to borrow from a friend so that I could put it on the website. I am told that this is the music that goes along with the video of the Godzilla Fantasia. Anyway the tracks are suites of music seamlessly blended together to make a great listening experience and bring back many memories. I'm sure this CD is pretty near impossible to find.

Updated Additional Info 1-20-2008 courtesy of Robert Storch

This is a very rare bonus CD which was offered to buyers who had purchased all twenty of the 1993 Godzilla 40th Anniversary Futureland soundtrack CDs (TYCY-5345~5364). Apparently, people had to clip off the 'coupon' from the top of each obi, and send them all in to receive this bonus disc (presumably by mail). This CD was never sold separately and does not have an obi. It says the words "NOT FOR SALE" on the back insert, and on the CD itself. Needless to say, this bonus CD is now extremely difficult to find, and usually commands big bucks when it shows up on auction sites.
SF SYMPHONIC FANTASIA
Composer: Akira Ifukube
Conductor: Maki Ishii
Performed by the Sapporo Symphony Orchestra
Recorded June 28, 1984
Track translations courtesy of John Cassidy (Daijirou Ryuusei)
Part 1
Part 2
Part 3
Orchestration: Rondo In Burlesque (March Gathering)