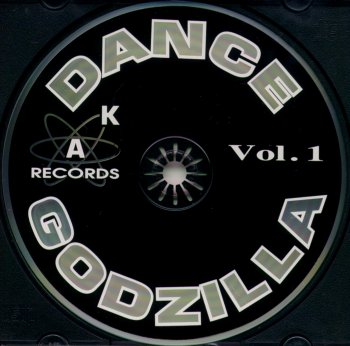 © 1998 Lawrence Tuczynski
| | |
| --- | --- |
| Title: | Dance Godzilla Vol. 1 |
| CD Label: | A K Records |
| CD Number: | No Number |
| Artist: | Atom Troy |
| Produced by: | Atom Troy |
| Number of tracks: | 16 |
| Running time: | 69:29 |
| Number of discs: | 1 |
| Year of release/manufacture: | 1996 |
REVIEW

I picked this CD up last year at New York's G-CON. It's a surprisingly good sounding CD. Certainly not for everyone's taste but I enjoyed it immensely. About the only way to desribe what's on this CD is to say it's a Techno version of Godzilla themes with samples of dialog and sound effects from various movies. A very big section of the CD is devoted to "Monster Zero". I recommend this CD to any listener except those that can't stand Techno music.

Added March 4, 2001 (link updated July 28, 2005)

Atom Troy, the artist that did this CD has provided a link to his web site. It's at: http://www.atomtroy.com/.
Dance Godzilla Vol. 1
Save The Earth
Godzilla's Coming
G March
Go Godzilla
Godzilla
Nuklear Blast
Planet X
Mothra
Planet X pt. II
Terror Of Mecha-Godzilla
G Military Theme

Bonus Tracks

Godzilla's Coming
Nukclear NRG
In Cars
Candy O
Come & Go Go