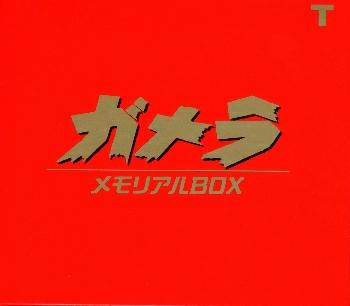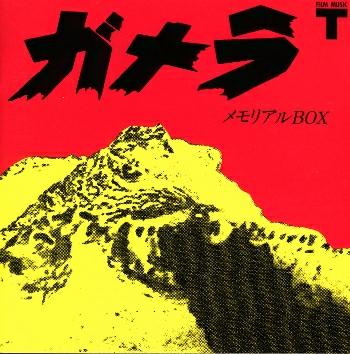 © 2000 Lawrence Tuczynski
Title
Gamera Box Set
CD Label
Tokuma
CD Number
TKCA-30294
Music Composed by:
Various
Number of tracks
Disc 1 - 26
Disc 2 - 49
Disc 3 - 38
Running time
Disc 1 - 67:44
Disc 2 - 59:19
Disc 3 - 58:18
Number of discs
3
Year of release/manufacture
1991
REVIEW

June 8, 2000

This is a nicely packaged 3 disc set of music, dialogue and sound effects from the early Gamera movies. Nicer still is that it is priced about the same as a 2 CD disc. The set comes in a cardboard box with foam insert holding a 19 page color booklet with some pictures and the three discs in individual cloth slip cases.

The contents of the three CD's are a real mixed bag. We get some tracks with movie dialogue, some with only sound effects, some with music only and many with a mix of all three. The music tracks range from great to just OK. There is enough dialogue going on throughout the discs to make me wish I was fluent in Japanese. Also, from the beginnings of some tracks you can hear control room directions meaning that some tracks have several variations.

Overall this is a good CD box set of early Gamera material and the price is right. The CD is worth owning but may be very hard to find. The set is very similar to and one catalog number off from the Majin Box set on Page 3 of this site.


Gamera Box Set

Disc 1

From "Gamera the Invincible"

1.	DB-1
2.	DB-6
3.	DB-7 
4.	DB-17
5.	DB-29 
6.	DB-42 First Half
7.	Gamera's Cries (Various) 
8.	Soundclips for Gamera's Footsteps 
9.	Jet Sounds (Various) 
10.	Sound of Gamera Breathing Out Fire
11.	Sound of the Fire Being Fanned by the Compressor
12.	Sound of Gamera's Footsteps (for final re-recording)
13.	Sound of (Gamera) Breathing Out Fire (for re-recording)

From "War of the Monsters"

14.	DB-TOP
15.	DB-4-2
16.	DB-4-3
17.	DB-5
18.	DB-18
19.	DB-31
20.	DB-34-2
21.	Baragon's Cries (Various)

From "Gamera vs. Gaos"

22.	DB-1
23.	DB-2
24.	DB-18i
25.	DB-25
26.	DB-32

Disc 2

From "Daikaiju Ketto Gamera tai Gyaosu" *1

1.	Gaos' Ultrasound (Various)
2.	Spark to the Shell
3.	Gaos Turns 
4.	Sound of Gamera Approaching in Flight
5.	Gamera's Breath of Fire
6.	Sound of Gamera's Jets 
7.	Gaos' Cries (Various) 
8.	Sound of Gamera Approaching in Flight  (Spinning) 
9.	Sound of Water (for the fight) 
10.	Sound of Gaos' Wings (Various) 
11.	Eruption of Mount Fuji & The Lava Flow
12.	Sound of Gaos Passing By

From "Destroy All Planets"

13.	DB-1 
14.	DB-2
15.	DB-16-A
16.	DB-18
17.	DB-19
18.	DB-20
19.	The Voice of Viras (Various)
20.	Sound of the Super-Catcher Beam (Launching and Retracting)
21.	Jets (for Gamera)
22.	Sound Mix for the Spacecraft
23.	Dragging Sound
24.	Spinning & Groaning
25.	Gamera and Viras Emerge from the Water
26.	Bubbles:  Gamera Breathing Underwater
27.	Underwater:  Fight Sounds
28.	Rope-throw *3 (Various)

From "Attack of the Monsters"

29.	DB-1-M-1
30.	DB-1 Second Half
31.	DB-5
32.	DB-6 Second Half
33.	DB-15
34.	DB-16
35.	DB-21
36.	DB-24
37.	Giron's Cry
38.	Sound of the Band *4 (The Spaceman's Stomach *3)
39.	Sound of the Spacecraft in Parallel *3
40.	Sound of Rubble Falling  (for background use)
41.	Sound of Giron Emerging (over the ground *5)
42.	Beheading Sounds (Various)
43.	Giron: Sudden Attack from Behind
44.	Giron Groaning
45.	Giron's Roar
46.	Sound of the River in Reverse
47.	Giron's Roar II
48.	Sounds Inside the Spacecraft
49.	Sound of Footsteps Retreating in the Spacecraft

*1	The IMDb shows a listing for a Japanese movie 
	entitled 'Gamera tai Gyaosu' but not for the full title as shown on this CD.
*3	This is a literal translation of the Japanese.
*4	Or possibly 'Sounds of the Belt'.
*5	Or possibly 'over the soil'.

		
Disc 3

From "Gamera vs. Monster X"

1.	The Gamera March (Stereo Version)
2.	DB-14-B
3.	DB-22-A
4.	DB-27-A
5.	Sound(s) of the Stone Statue (Original 1)
6.	Jiger's Cries - Sound Mix 3
7.	The Voice of Baby Jiger - Original
8.	Jiger's Cries - Sound Mix
9.	Jiger's Cries II
10.	Jiger's Cries - Original
11.	Sound of the Stone Statue - Sound Mix

From "Gamera vs. Zigra"

12.	DB-1-M-1
13.	DB-17-M-14
14.	DB-2-M-3
15.	DB-9-9  Second Half
16.	DB-17 2nd Half  M-14A
17.	DB-27  Middle M-20A
18.	DB-27-M-20A and M-21
19.	Sound of Zigra's Fin(s) in the Water
20.	Sound of Zigra's Wings (Wing on Wing)
21.	Sound of Zigra's Wings in the Air
22.	The Slap of Zigra's Dorsal Fin(s)
23.	Zigra's Yawn
24.	Sound of Zigra's Nose-Light
25.	Zigra's Cries (Various)
26.	The Slap of Zigra's Tail
27.	Sound of the Arm-Slice1
28.	Sound of the Head Retracting
29.	Sound of the Lunar Vehicle
30.	The Slap of Zigra's Dorsal Fin(s)  (Re-recording)
31.	Gamera Dives Underwater 
32.	Bubbles Underwater  (Light)
33.	Zigra's Cries
34.	Zigra's Cries - Extended

From "Space Monster Gamera"

35.	M-1
36.	Love Looks to the Future  (Stereo)
37.	M-34
38.	Good Ol' Gamera  (Stereo)