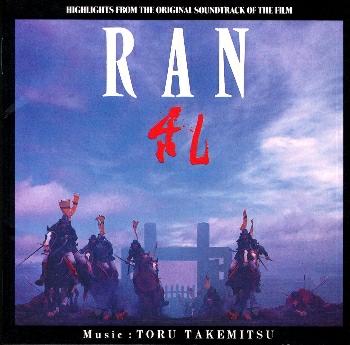 © 2000 Lawrence Tuczynski
| | |
| --- | --- |
| Title: | RAN |
| Japanese Title: | RAN |
| Also known as: | Chaos |
| CD Label: | SLC, Inc. |
| CD Number: | SLCS-5073 |
| Music by: | Toru Takemitsu |
| Music played by: | Sapporo Symphony Orchestra |
| Conducted by: | Hiroyuki Iwaki |
| Number of tracks: | 1 |
| Running time: | 32:24 |
| Number of discs: | 1 |
| Year of release/manufacture: | 1996 |
| Year Movie Released in Japan: | 1985 |
| Year Movie Released in U.S.: | This movie is available on tape or DVD with English subtitles. |
REVIEW



This CD is basically the same as the Milan issue also on this page
but is a Japanese release of the material. This packaging of the
material is superior to the Milan packaging in that the booklet
is expanded with more info and pictures. All text is in Japanese.
The CD also sounds slightly better, maybe a remastering of the 
material. What is also strange is that this CD is one long track, 
sort of a suite of music, while the Milan CD was broken up into
two tracks.

As with the previous release, I really enjoyed this music and
the film it comes from. The main theme is a haunting and 
unforgettably sad melody. After hearing this music by Toru Takemitsu
I bought another of his CD's hoping for something similar.
Unfortunately while the music on the other CD was OK to listen
to it just didn't grab me the way the music on this CD did. If
you have the opportunity to pick up either release of this
material go for it.  



Title:	RAN - Highlights From The Original Soundtrack Of The Film
Director:	Akira Kurosawa

1	"RAN"