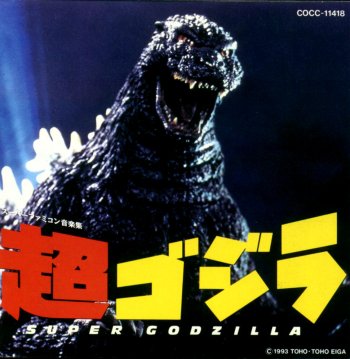 © 2000 Lawrence Tuczynski
| | |
| --- | --- |
| Title: | Super Godzilla |
| CD Label: | Nippon Columbia Co. |
| CD Number: | COCC-11418 |
| Music by: | ? |
| Number of tracks: | 8 |
| Running time: | 34:08 |
| Number of discs: | 1 |
| Year of release/manufacture: | 1993 |
REVIEW

This CD was a disappointment, especially for what it cost. I saw this CD advertised at Footlight and decided to get it for this site even though I knew nothing about it. With tax & shipping I paid $32 for this disc used. It's nowhere near worth the price.

The music on this short CD is comprised of known Godzilla tunes done with what sounds like a synthesizer & drum machine or maybe a midi keyboard. Some Godzilla roars are added to some of the tracks. This CD is for completist only and then only if you can find it somewhere for under $10.

Added Dec. 06, 1999

Super Godzilla is the Soundtrack to the Godzilla video game of the same name, Super Godzilla which was released in Japan for the Super Faciom, and was brought to the US and released to the Super Nintendo Entertainment system.
English Title: Super Godzilla
Japanese Title: Not Shown
Translations by Silver Bridges - http://www.silverbridges.com/
Monster Zero March (Opening Theme)
Destruction and Attack Theme Song
Godzilla's Theme (The Monster Appears *1)
Battle Theme
The Terror of Godzilla
Mechagodzilla's Theme
Baran's Theme
Ending Theme

*1 Or possibly 'The Monsters Appear'.