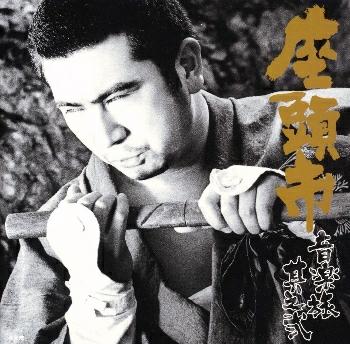 © 2000 Lawrence Tuczynski
| | |
| --- | --- |
| Title: | ZATOUICHI'S MUSICAL JOURNEY Volume 2 |
| Japanese Title: | Zatoichi: Ongaku-Tabi, Sono Ni |
| CD Label: | King Records |
| CD Number: | KICA 3024 |
| Music by: | Akira Ifukube & Others |
| Number of tracks: | 46 |
| Running time: | 75:34 |
| Number of discs: | 1 |
| Year of release/manufacture: | 1998 |
REVIEW

May 23, 2000 (Updated 11/13/2003)

Zatoichi is a blind masseur, a gambler, drinker and hell of a samurai swordsman. Shintaro Katsu starred in over 25 Japanese movies as Zatoichi. It was a very popular series of movies. You can find some of the movies in the US on VHS videotape with English subtitles and on DVD.

This CD starts off with a very catchy mid-tempo piece. The CD has a good mix of mostly slow and mid-tempo tunes with an upbeat number occasionally thrown in. Some of the tracks have a very dark, foreboding feel to them. Tracks 22 & 27 sound as if they'd be at home in a Godzilla movie. Some of the musical pieces on this CD will remind you of Samurai type settings and other music is pretty generic and would fit into a variety of different types of films. Track #30 is a very uptempo number featuring lots of heavy drumming. Tracks #43 through 46 are male vocal tracks that are sung by Zatoichi and actually sound as if they could be the singing of Shintaro Katsu himself.

I liked this volume better than volume 1 because of it's good mix of musical tempos but enjoyed volume three the most.
English Title: ZATOUICHI'S MUSICAL JOURNEY Volume 2
Japanese Title: Zatoichi: Ongaku-Tabi, Sono Ni
Tracks titles updated 11/13/2003 courtesy of John Cassidy
From ZATOUICHI NIDAN GIRI (Zatouichi's Double-Slash)
(AKA: The Blind Swordsman's Revenge)
Akira Ifukube
DB1A (Daiei Mark ~ Main Title)
M-X (Ichi And Otsuru)
DB28 (Zatouichi's Double-Slash)
DB29 (The Sun And Zatouichi ~ Ending)

From ZATOUICHI SAKATE GIRI (Zatouichi's Backhand Slash)
(AKA: Zatoichi and the Doomed Man)
Seitarou Oomori

DB1 (Daiei Mark)
DB4 (Main Title)
DB11 (The Sea And Zatouichi)
DB26 (Great Sword Battle At The Beach)
DB26-I (Zatouichi's Backhand Slash)
DB27 (The Roaring Sea ~ Ending)

From ZATOUICHI JIGOKU TABI (Zatouichi's Trip to Hell)
(AKA: Zatoichi and the Chess Expert)
Akira Ifukube

DB TOP A (Daiei Mark ~ Festival Band ~ Main Title)
DB7 (Wounded Miki ~ Taking A Secluded Journey)
DB13 (Zatouichi, To Odawara)
DB14 (In The Middle Of The Gloom)
DB16 (Ichi And Miki)
DB23 (Roppei Murdered)
DB25 (Ichi's Suspicion)
DB28 (Tomonoshin's Confession)
DB30 (Ichi And Otane)
DB34 (In The Hakone Mountains - An Instant Conclusion)
DB36 (Conclusion ~ Ending)

From ZATOUICHI NO UTA GA KIKOERU (Zatouichi's Song is Heard)
(AKA: Zatoichi Vengeance)
Akira Ifukube

DB1 (Daiei Mark ~ The Runaway Man)
DB2B (Main Title)
DB3 (Ichi And The Biwa Priest [I])
DB8 (Ichi And Ochou)
DB10 (Ichi And The Biwa Priest [II])
DB12 (The One Word Of Endurance)
DB21 (Resistance For Genpachirou)
DB23A (Ending)

ZATOUICHI UMI WO WATARU (Zatouichi Crosses The Sea)
(AKA: Zatoichi's Pilgrimage)
Ichirou Saitou

DB1 (Daiei Mark ~ Main Title)
DB5A (The Horse And Zatouichi ~ To Serigazawa)
DB6A (Ichi And Okichi)
DB11 (The Gluttonous Yakuza)
DB21 (The Villagers And Okichi ~ Ichi's Determination)
DB24 (The Time For Confrontation)
DB33 (Okichi On Horseback ~ Ending)

From ZATOUICHI TEKKA TABI (Zatouichi's Journey of Red-Hot Iron)
(AKA: Zatoichi's Cane Sword)
Ichirou Saitou

DB1 (Daiei Mark)
DB2 (Main Title)
DB8A (Ichi And Senzou)
DB30 (Senzou's Final Moment)
DB38 First Half (Zatouichi's Raid)
DB39 (Ending - Ichi Departs)

From ZATOUICHI ROU YABURI (Zatouichi's Jailbreak)
(AKA: Zatoichi the Outlaw)
Sei Ikeno

Musical Suite (Main Title ~ Farming Song ~ Asagorou ~ Theme Song "Zatouichi")

From ZATOUICHI CHIKEMURI KAIDOU (Zatouichi's Highway of Spurting Blood)
(AKA: Zatoichi Challenged)
Akira Ifukube

Musical Suite (Daiei Mark ~ Main Title ~ Theme Song "Zatouichi" ~ Ending)
Zatouichi
Performed by Shintarou Katsu and the Daiei Orchestra
Zatouichi Travels Alone
Performed by Shintarou Katsu and the Daiei Orchestra