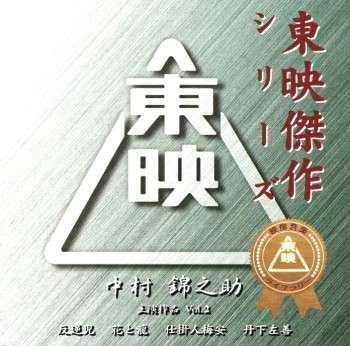 © 2004 Lawrence Tuczynski
Title
Kinnosuke Nakamura Best Collection 2
CD Label
Absord Music Japan Inc.
TOEI Music Publishing Co., Ltd.
CD Number
ABCS-1014~15
Music Composed by:
Akira Ifukube
Minoru Miki
Shigeki Watanabe
Toshiaki Tsushima
Number of tracks
Disc 1: 30
Disc 2: 38
Running time
Total both discs: 114:58
Number of discs
2
Year of release/manufacture
10-22-1999
REVIEW

February 13, 2004

This CD is the second collection of the best tracks from Kinnosuke Nakamura movies. Volume 1, ABCS-1001 is also on this site.

Disc 1, track 1 starts off with sound sea sound effects and then a bit of dialogue before moving into a slow, somber sounding track 2. Track 6 also is nothing more than a wind and sea sound effect. Track 7 contains hints of music familiar to Godzilla fans and is a bit faster paced than most tracks on this disc. The majority of disc 1 is slow, somber and somewhat plodding. Not a bad listen but nothing that really grabbed me either.

Disc 2, starts of with what sounds like an identical wind & sea sound effect that starts disc 1. After that the music is quite a bit different from Disc 1. While some of the themes are also slow, others are more upbeat. The music also had some strange instrumentation in parts that were reminiscent of some 70's TV music. Overall I found Disc 2 to be a much better and more interesting listening experience as a stand alone CD without seeing the films associated with it. The music on this disc has more variety and I just found it overall more interesting and different from what I've heard before on similar CD's.
Kinnosuke Nakamura Best Collection 2
Track translations from a combination of http://eplus.ebsgao.jp/p/ABCS-1014/ and Alta-Vista's Babelfish translation site http://babelfish.altavista.com/. I realize the translations aren't great but they are the best I can do for now since the booklet only lists the M numbers and not much else.
[ Disc 1 ]

Rebellious child M - 1
Rebellious child M - 2
Rebellious child M - 3
Rebellious child M - 4
Rebellious child M - 5
Rebellious child M - 12
Rebellious child M - 6
Rebellious child M - 7
Rebellious child M - 8
Rebellious child M - 9
Rebellious child M - 10
Rebellious child M - 11
Rebellious child M - 13
Flower and dragon M - 1
Flower and dragon M - 2
Flower and dragon harmony ease 1
Flower and dragon M - 4
Flower and dragon M - 5
Flower and dragon M - 6
Flower and dragon M - 7
Flower and dragon M - 8
Flower and dragon harmony ease 2
Flower and dragon M - 9
Flower and dragon M - 11
Flower and dragon harmony ease 3
Flower and dragon M - 11
Flower and dragon harmony ease 4
Flower and dragon M - 12
Flower and dragon M - 13
Flower and dragon M - 15
[ Disc 2 ]

The setting up human plum it is cheap M - 1
The setting up human plum it is cheap M - 2
The setting up human plum it is cheap M - 3
The setting up human plum it is cheap M - 4
The setting up human plum it is cheap M - 5
The setting up human plum it is cheap M - 7
The setting up human plum it is cheap M - 8
The setting up human plum it is cheap M - 9
The setting up human plum it is cheap M - 10
The setting up human plum it is cheap M - 11
The setting up human plum it is cheap M - 13
The setting up human plum it is cheap M - 15
The setting up human plum it is cheap M - 16
The setting up human plum it is cheap M - 17
The setting up human plum it is cheap M - 19
The setting up human plum it is cheap M - 20
The setting up human plum it is cheap M - 21
The setting up human plum it is cheap M - 23
The setting up human plum it is cheap M - 24
The setting up human plum it is cheap M - 25
The setting up human plum it is cheap M - 26
Akashita left virtue M - 1
Akashita left virtue M - 2
Akashita left virtue M - 3
Akashita left virtue M - 4
Akashita left virtue M - 5
Akashita left virtue M - 6
Akashita left virtue M - 7
Akashita left virtue M - 8
Akashita left virtue M - 11
Akashita left virtue M - 12
Akashita left virtue M - 13
Akashita left virtue M - 14
Akashita left virtue M - 15
Akashita left virtue M - 17
Akashita left virtue M - 18
Akashita left virtue M - 19
Akashita left virtue M - 20