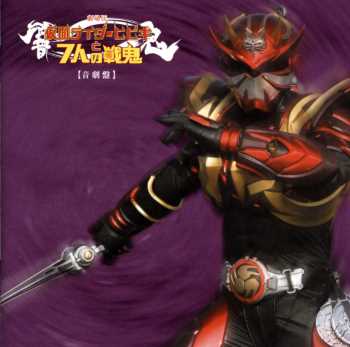 © 2007 Lawrence Tuczynski
| | |
| --- | --- |
| Title: | KAMEN RIDER HIBIKI & THE SEVEN WAR DEMONS (Theatrical Edition) |
| Japanese Title: | Movie Kamen Rider Hibiki to 7nin no Senki OST 1st ed |
| CD Label: | Avex Entertainment Inc. |
| CD Number: | AVCA-22254 |
| Music by: | TOSHIHIKO SAHASHI |
| Number of tracks: | 37 |
| Running time: | 52:39 |
| Number of discs: | 1 |
| Year of release/manufacture: | August 31, 2005 |
REVIEW

September 14, 2007

I have never seen the movie this soundtrack is from however I enjoyed this CD much more than the followup Kamen Rider Hibiki - Original Soundtrack 2 (AVCA-22392) also on this site. The music here was mostly slow or mid tempo with a good variation. Some of it was dark, brooding, action music and others were peaceful, tranquil type tunes. This CD was throroughly enjoyable as stand alone music to just listen to. Hopefully it also went well with the images on screen.
KAMEN RIDER HIBIKI & THE SEVEN WAR DEMONS (Theatrical Edition)
English translated titles courtesy of Jolyon Yates.
Announcement
Python ~ Orochi ~ Seashore Confrontation
Purification Kodo
Asumu, Heart's Crisis
Sacrificial Mikoshi
Oni Iwagi
Villagers
Thinking of Asumu
Solo Sorrow
Appearance of the Song & Dance Demon
Feelings
Castle Lord Ibuki
Confrontation
Doji & Hime
Appearance of the Glittering Oni
Genki Hibiki ['Genki' is 'vigorous', 'good to go']
Fighting Form
Hitotsumi
War Demons Assembly
Warriors
Thoughts of Hibiki
Assassination
Opposition
Trouble Within
Solo Suffering
Twisted Feelings
Confused Asumu
Fierce Warrior's Sword
Determination
Hibiki Transformation
Hibiki Respects
Joining Battle
Hitotsumi's Fight
Cessation
Discovery
Invincible Soldier
Separation