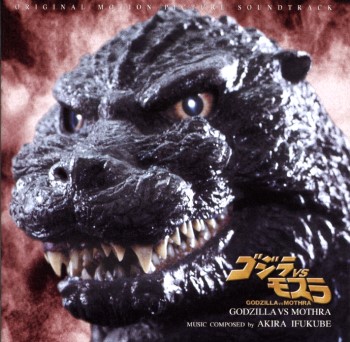 © 2006 Lawrence Tuczynski
Title:
Godzilla vs. Mothra
Japanese Title:
Gojira Tai Mosura
Movie also known as:
Godzilla & Mothra: The Battle For Earth
CD Label:
Toho Music Corporation
CD Number:
G-019
Music by:
Akira Ifukube
Number of tracks:
Disc 1 - 53
Disc 2 - 17
Running time:
Disc 1 - 73:37
Disc 2 - 53:46
Number of discs:
2
Year of release/manufacture:
October 20, 2006
Year Movie Released in Japan:
1992
Year Movie Released in U.S.:
1998
REVIEW

October 31, 2006

This has always been one of my favorite Godzilla soundtracks and expanding this to a 2 CD set makes it even better. I have always had a soft spot for the movies with Mothra in them ever since the original in 1964 sometimes known as Godzilla vs. The Thing (TYCY-5348). That's the movie that introduced me to the wonderful singing talents of The Peanuts. There are many discs by them on this site on the Peanuts page. In this newer 1992 film we have a newer Mothra plus Battra as well as Godzilla and new fairies called The Cosmos here and played by Keiko Imamura and Sayaka Osawa. These two ladies appear again as The Cosmos in the 1994 "Godzilla vs. Space Godzilla" and in smaller roles in the 1993 "Godzilla vs. Mechagodzilla " and 1995 "Godzilla vs. Destroyer ". Neither woman appears to have done much film work other than these Godzilla movies. These new songs by the female duo sound just as beautiful as those by The Peanuts in the original.

Disc 1 contains 53 tracks which is a big expansion of the 30 tracks found on 1993 Futureland release TYCY-5363, the 1992 42 track picture disc TYCY-5269 or the 1992 2 CD set TYCY-5267. This disc is a wonderful soundtrack by the Godzilla master Akira Ifukube. He gives us some great marches, some interesting reworkings of older tunes and great music for The Cosmos to sing. The music here is just beautiful, that's the only way I can describe it.

Disc 2 of this set is a great bonus disc to accompany the 1st disc. The "Godzilla Love Theme" tracks are sung in Englsh and sound lovely. I really like track 9 on this 2nd disc. It's a well done medley complete with sound effects and background sounds. This second disc contains many vocal tracks by The Cosmos (Keiko Imamura and Sayaka Osawa) that I really enjoyed as they have wonderful voices reminescient of The Peanuts (Emi Ito and her twin sister Yumi Ito). Also one really cool track is the last track, #17, on this disc which is a hard rock Japanese version of Blue Oyster Cult's classic "Godzilla" song.
Godzilla vs. Mothra
Track listing courtesy of Sci-Fi Japan
DISC 1

The Fall of the Meteorite (M1)-00:44
*Main Title (M2)-01:24
The Ruins of the Ayutthaya Dynasty (M3)-00:54
The Golden Image of Buddha (M4)-00:15
Collapse of the Temple (M5)-01:08
The Iceberg Incident (M7)-00:20
Infant Island (M8)-00:48
Collapse of the Suspension Bridge (M9)-01:15
Midori's Letter (M10)-00:45
The Mural in the Cave (M11)-01:42
Discovery of the Giant Egg (M12)-00:36
Legend of the Cosmos (M13)-01:56
Larva Battra's Appearance (M14 slow short)-00:48
Towing the Giant Egg (M15)-00:37
Battra Attacks Nagoya (M14)-01:22
*Battra Against the Self-Defense Forces (M16B)-02:00
The Appearance of Godzilla (Godzilla's Theme)-03:37
Birth of Larva Mothra (M26)-02:58
The Hotel in Manila (M22)-02:07
Mothra's Song as She Crosses the Sea (M23)-01:20
Mothra Landing -00:54
The Cosmos and Mothra (M27T2)-00:54
The Cocoon at the Diet Building (M28)-01:38
Godzilla Comes from the Fuji Volcano -02:47
The Birth of Adult Mothra -02:40
The Birth of Adult Battra -00:48
Godzilla Against the Self-Defense Forces (M32)-01:56
Luminous Fairies -00:56
Godzilla vs. Mothra (M26)-04:02
Halo Above the Water (M35L)-00:44
Mothra Heads into Space (M36)02:37
End Titles (M37)-03:41

BONUS TRACKS

Battra Theme I (M14)-01:43
Cry of the Cosmos -00:14
Mothra's Song I (M23)-01:15
Mothra's Song II -00:47
Mothra's Song III -01:08
Mahala Mothra I -00:48
Mahala Mothra II -00:43
Luminous Fairies (M34) -00:55
Sacred Fountain I (the first half of M30 one vibrant tune) -0:08
Sacred Fountain II (M30)-02:33
Sacred Fountain III (M30A) -01:31
Sacred Fountain IV (M30B)-02:33
The Birth of Adult Battra (M31BT1)
Mothra and the Conversation with Battra (M101)-00:45
Energy (M102)-00:20
Battra Theme II (M103)-00:47
Scales (M104)-00:32
Scales Attack (M38)-00:29
Undersea Battle (M14)-01:24
Sacred Fountain V (M30)-01:31
Mothra's Song (as she crosses the sea; dubbing material for movies)-01:17
DISC 2: EXTRAS

GODZILLA VS MOTHRA

Mothra's Song (Synthesizer Version, Sayaka Osawa and Keiko Imamura as "The Cosmos")
Insertion song test - TEIKU Collection -01:18
Sacred Fountain (Sayaka Osawa and Keiko Imamura)-01:35
Mahala Mothra (Sayaka Osawa and Keiko Imamura)-01:31
Cry of Mothra (Sayaka Osawa and Keiko Imamura)-00:14
Mothra's Song (Sayaka Osawa and Keiko Imamura)-00:50

GODZILLA (1984)

Godzilla's Theme - 05:27 (Reijiro Koroku)

GODZILLA SINGLES COLLECTION 1984-1992

GODZILLA (1984)

Godzilla: Love's Theme (Reijiro Koroku, Star Shisutazu)- 03:44
Sweetheart of Goodbye (Yasuko Sawaguchi)- 03:47
Godzilla Forever! Akira Ifukube Showa Godzilla Medley of Glory (arrangement Hideo Saito)- 04:46
Godzilla: Love's Theme (instrumental, Reijiro Koroku)-03:40
Godzilla Forever! Akira Ifukube Showa Godzilla Medley of Glory
(no sound effects, arrangement Hideo Saito)-04:39
Love Theme of Godzilla (Reijiro Koroku, Yoshimi Niikura, Jackie)-03:52

GODZILLA VS MOTHRA

Mothra's Song (Sayaka Osawa and Keiko Imamura)-03:52
Sacred Fountain (Sayaka Osawa and Keiko Imamura)-03:47

ADVENTURE! GODZILLALAND

Godzilla Musical Scales (So Fa Mi Re Do Exercises)-03:45
Godzi-rap (Ambient Mix)-03:46
GODZILLA (Fighter Ishida and GYM)-03:21