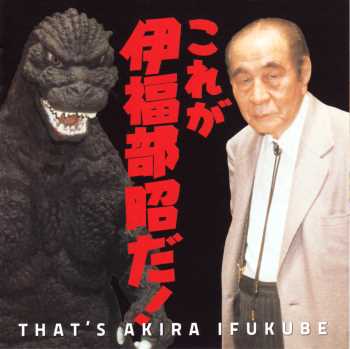 © 2014 Lawrence Tuczynski
| | |
| --- | --- |
| Title | That's Akira Ifukube |
| Sometimes listed as: | Kore Ga.Ifukube Akira Da! |
| CD Label | King Record Co.,Ltd. |
| CD Number | KICC 1130 |
| Music by: | Akira Ifukube |
| Number of tracks | 29 |
| Running time | 78:58 |
| Number of discs | 1 |
| Year of release/manufacture | March 25, 2014 |
REVIEW

April 18, 2014

It seems there will be a lot of releases, repackaging and mixing of discs this year to commemorate the 60th Anniversary of Godzilla and what would have been Akira Ifukube's (1914-2006) 100th birthday. This disc falls into the 3rd category because it combines tracks found on several other discs.

Tracks two through eleven are all taken from Symphonic Fantasia No. 1 which can also be found on this site at: Symphonic Fantasia and The Artistry Of Akira Ifukube 4 as well as others. The rest of the tracks on this disc can also be found on other discs that are more complete for the music being presented. For instance I'm surprised that this disc devoted the last four tracks to the same piece of music (The third movement from Sinfonia Tapukara: Vivace) but by different conductors. Tracks 18-24 from "Salome" can also be found in its complete form on The Artistry Of Akira Ifukube 3.

This is not a bad disc and covers a wide variety of Mr. Ifukube's music on one disc. If you don't have other discs with this music or are new to Mr. Ifukube's music then this is a decent beginning disc and as of this writing is still easy to obtain. I got my copy via Amazon.com but you can find it on many other sites that carry Japanese discs.
English Title: That's Akira Ifukube
Japanese Title: Kore Ga.Ifukube Akira Da!
Godzilla's Footsteps, sound effect (mono)

Symphonic Fantasia No. 1 (1983)

Symphonic Fantasia No.1 - Godzilla Appears
Symphonic Fantasia No.1 - Interlude Part 1
Symphonic Fantasia No.1 - Theme From "Godzilla"
Symphonic Fantasia No.1 - Theme From "King Kong vs Godzilla"
Symphonic Fantasia No.1 - Night Music From "Battle In Outer Space"
Symphonic Fantasia No.1 - Horror Music From "Frankenstein Conquers The World" ("Frankenstein vs. Baragon")
Symphonic Fantasia No.1 - Godzilla And Rodan From "Ghidrah"
Symphonic Fantasia No.1 - Theme From "Battle In Outer Space"
Symphonic Fantasia No.1 - Theme From "Destroy All Monsters"
Symphonic Fantasia No.1 - Fighting Music From "Battle In Outer Space"

Japanese Suite (1934/1991)

Japanese Suite 1 - Bon-Odori: Nocturnal Dance Of The Bon-festival
Japanese Suite 2 - Tanabata: Fete Of Vega

Ballata Sinfonica (1943)

Ballata Sinfonica - Prima Ballata: Allegro Capriccioso
Ballata Sinfonica - Second Ballata: Andante Rapsodico

Triptyque Aborigene (1937)

Triptyque Aborigene 1 - Payses, "Tempo Di Jimkuu"

The Little Prince And The 8-Headed Dragon (1963/2003)

Symphonic Suite: "The Little Prince And The 8-Headed Dragon"

Salome (1948/1987)

Salome: I am ready, Tetrach. (Salome dances the dance of the seven veils.) First dance.
Salome: I am ready, Tetrach. (Salome dances the dance of the seven veils.) Second dance.
Salome: I am ready, Tetrach. (Salome dances the dance of the seven veils.) Third dance.
Salome: I am ready, Tetrach. (Salome dances the dance of the seven veils.) Fourth dance.
Salome: I am ready, Tetrach. (Salome dances the dance of the seven veils.) Fifth dance.
Salome: I am ready, Tetrach. (Salome dances the dance of the seven veils.) Sixth dance.
Salome: I am ready, Tetrach. (Salome dances the dance of the seven veils.) Seventh dance.

Harp Of Burma (1956)

Main Theme From "Harp Of Burma"

Sinfonia Tapukara (1954/1979)

Junichi Hirokami conducts the Japan Philharmonic Orchestra:Sinfonia Tapukara: 3rd Movment: Vivace
Maki Ishii conducts the New Symphony Orchestra:Sinfonia Tapukara: 3rd Movment: Vivace
Tetuzi conducts the Japan Philharmonic Orchestra:Sinfonia Tapukara: 3rd Movment: Vivace
The third movement from Sinfonia Tapukara: Vivace