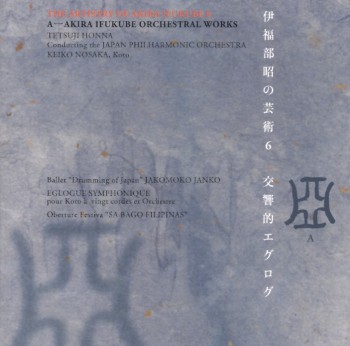 © 2004 Lawrence Tuczynski
Title
The Artistry of Akira Ifukube 6
CD Label
King Records
CD Number
KICC 439
Music composed by:
Akira Ifukube
Music conducted by:
Tetsuji Honna
Music performed by:
Japan Philharmonic Orchestra
Music recorded:
Tracks 1-4 & 6 recorded August 25-26 2003 at
the Katsushika Symphony Hills, Mozart Hall.
Track 5 recorded September 8-9 2003 at Aprico Large Hall
Number of tracks
6
Running time
75:37
Number of discs
1
Year of release/manufacture
11-27-2003
REVIEW

January 09, 2004

This Volume 6 and Volume 7 (also on this site) would seem to be a continuation of the series released from 1995 to 1997. Volumes 1 thru 5 are also on this site.

This is a very good sounding CD and a pleasure to listen to. The Japan Philharmonic Orchestra conducted by Tetsuji Honna does an excellent job. The recordings were done in August and September of 2003. How I wish we had some live concerts of Ifukube material here in the U.S. that I could attend. This Volume 6 is really packed. With a running time of over 75 minutes this is one of the longer discs in the series. The music itself varies in tempo. Some is fast and some is slow but the overall mix is wonderful and never bores you. This CD is a great addition to anyone's Akira Ifukube collection.
Title: THE ARTISTRY OF AKIRA IFUKUBE 6
Track titles courtesy of Jolyon Yates.
Ballet Music 'Drumming of Japan' Jakomoko Janko (1951/1984)

I Prelude ~ Eight Spirits (Shishi) Festival Dance
('Shishi' might mean 'lions' in this case. The kanji for 'spirits' may also be read as 'demons')
II Woman Spirit Festival Dance
III Two Spirits Festival Dance
IV Eight Spirits Festival Dance

Eglogue Symphonique for 20 string koto and orchestra (1982)

Symphonic Eclogue for 20 string koto and orchestra

Overture Festiva 'Sa Bago Filipinas' (1944)

Festive Overture 'Gift to the Philippines'
Japan Philharmonic Orchestra conducted by Tetsuji Honna
20 string koto (track 5) played by Keiko Nosuka
Tracks 1-4 & 6 recorded August 25-26 2003 at the Katsushika Symphony Hills, Mozart Hall.
Track 5 recorded September 8-9 2003 at Aprico Large Hall