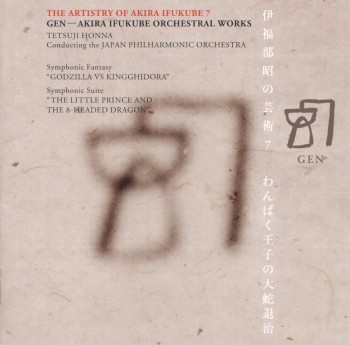 © 2004 Lawrence Tuczynski
Title
The Artistry of Akira Ifukube 7
CD Label
King Records
CD Number
KICC 440
Music composed by:
Akira Ifukube
Music conducted by:
Tetsuji Honna
Music performed by:
Japan Philharmonic Orchestra
Music recorded:
Tracks 1-7 recorded August 25-26 2003 at the Katsushika Symphony Hills, Mozart Hall.
Tracks 8-12 recorded September 8-9 2003 at Aprico, Large Hall
Number of tracks
12
Running time
48:47
Number of discs
1
Year of release/manufacture
11-27-2003
REVIEW

January 09, 2004

This Volume 7 and Volume 6 (also on this site) would seem to be a continuation of the series released from 1995 to 1997. Volumes 1 thru 5 are also on this site.

The first part of this CD, Symphonic Fantasy GODZILLA vs KING GHIDORA (1991), will sound very familiar to anyone with some Godzilla CD's and most of this music has appeared on several other CD's also on this site. However each time it is done by a different orchestra and/or conductor it always sounds slightly different and this is no exception. The Japan Philharmonic Orchestra conducted by Tetsuji Honna on this disc does an excellent job and the music sounds as fresh as ever. The CD is very clear and sounds great. The music sounds slightly brighter than I've heard it done before but that is not a bad thing.

Part two of the disc is made up of the Symphonic Suite THE LITTLE PRINCE & THE EIGHT HEADED DRAGON (1963/2003). This may not be as familiar to most because music for "THE LITTLE PRINCE & THE EIGHT HEADED DRAGON" is available on an out of print CD COMPLETE RECORDINGS: AKIRA IFUKUBE TOEI-DOGA SFX FILM MUSIC, TYCY-5213~14 [reissue of LD25-5065~6] also on this site. This is also a very enjoyable suite of music and worth listening to.
Title: THE ARTISTRY OF AKIRA IFUKUBE 7
Track titles courtesy of Jolyon Yates.
Fantasy ~ THE LITTLE PRINCE & THE EIGHT HEADED DRAGON
Literal translation PRINCE WANPAKU & THE SUBDUAL OF THE GREAT SERPENT

Symphonic Fantasy GODZILLA vs KING GHIDORA (1991)

I Prelude
II Dinosaurs
III Lagos
IV Emi
V King Ghidora
VI March Music
VII Godzilla

Symphonic Suite THE LITTLE PRINCE & THE EIGHT HEADED DRAGON (1963/2003)

I Prelude ~ Izanami's Ascension
II Susano-o's Departure ~ Land of Fire
III Amenouzume's Dance
IV Izumo's Country ~ Subdual of the Great Serpent
V Ending
Japan Philharmonic Orchestra conducted by Tetsuji Honna. Female Vocalist Chor June (Jun Koda).
Contralto tracks 8 & 12 Mariko Yumita.
Tracks 1-7 recorded August 25-26 2003 at the Katsushika Symphony Hills, Mozart Hall.
Tracks 8-12 recorded September 8-9 2003 at Aprico, Large Hall