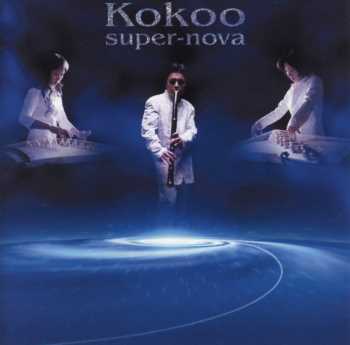 © 2008 Lawrence Tuczynski
| | |
| --- | --- |
| Title | Kokoo - Super Nova |
| CD Label | King Record Co.,LTD |
| CD Number | KICP-716 |
| Music by: | Kokoo |
| Number of tracks | 10 |
| Running time | 50:21 |
| Number of discs | 1 |
| Year of release/manufacture | April 26, 2000 |
REVIEW

August 24, 2008

This out of print CD is by Kokoo. Kokoo is made up of:
Akikazu Nakamura: shakuhachi
Michiyo Yagi: koto, 17-string koto, 20-string koto
Miki Maruta: koto, 17-string koto, 20-string koto

The CD was Recorded by Masaki Sasaki at Studio Sound Pot in 2000, Mixed by Masaki Sasaki, Mastered by Seigen Ono at Saidera Mastering in 2000, and Produced by Akira Nakamura. You can find this CD listed on CD Japan at: http://www.cdjapan.co.jp/detailview.html?KEY=KICP-716). The main reason the CD is listed on the site is because track 10 is composed by Akira Ifukube and titled "Godzilla". Also the Godzilla track 10 on this CD is the same as track 7 on GODZILLA ZORO ZORO (KICS-836).

I'm not sure what to make of the music on this CD. I enjoyed it but it was strange hearing very familiar songs done sort of jazz like and played on a koto. I guess the strangest sounding one to me was the first track, "Purple Haze", after hearing the searing heavy metal original by Jimi Hendrix all my life. The Led Zeppelin suite was also a bit strange.
Kokoo - Super Nova
Purple Haze (Hendrix) (3:14)
Warszawa (Bowie) (6: 47)
Tarkus Variation (Emerson) (4:41)
Dropping the Torch (Hammil) (2:45)
Led Zeppelin Variation:
Immigrant Song (Page, Plant)
Black Dock (Jones, Page, Plant)
Over the Hills and Far Away (Page, Plant)
Misty Mountain Hop (Jones, Page, Plant) (7:20)
Peaches en Regalia (Zappa) (2:55)
She's Leaving Home (Lennon, McCartney) (4:59)
One of These Days (Gilmour, Mason, Waters, Wright) (6:47)
Eleanor Rigby (Lennon, McCartney) (3:27)
Godzilla (Akira Ifukube) (6:18)