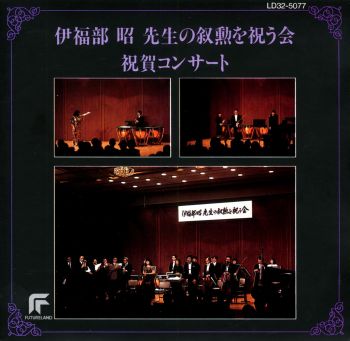 © 2003 Lawrence Tuczynski
| | |
| --- | --- |
| Title | Akira Ifukube Tribute Concert |
| CD Label | Futureland |
| CD Number | LD32-5077 |
| Music by: | Akira Ifukube |
| Number of tracks | 18 |
| Running time | 62:03 |
| Number of discs | 1 |
| Year of release/manufacture | June 24,1989 |
REVIEW

February 11, 2003 Courtesy of Sam Scali

Akira Ifukube Tribute Concert (LD32-5077) - recorded 2/27/88

This rare Futureland release, like 1992's "World of Akira Ifukube" (TYCY-5217~18), features a nine-part musical tribute hosted by various conductors, as well as full renditions of three of Mr. Ifukube's own classical works. It is a well-recorded, spirited performance, though not essential since most of the material has turned up on other CDs. Still, it is a very hard-to-find release and well worth buying if you can find it for a reasonable price.
CELEBRATORY CONCERT IN HONOR OF THE MASTER IFUKUBE AKIRA
Ifukube Akira Appreciation
Translations courtesy of Jolyon Yates
Harada Hajime 'I Felicidades El Maestro'
Ishii Maki 'Phantasmal Music'
Manabe Riichiro 'Omaggio al Maestro Ifukube'
Imai Shigeyuki 'Mad Transformation'
Matsumura Yoshimi 'Homage to Akira Ifukube'
Miki Minoru 'Godzilla is Dancing'
Akutugawa Yasushi 'Ballad on the theme of Godzilla'
Ikeno Shigeru 'Omaggio a Maestro A Ifukube'
Kaoru Toshio 'Hommage a A Ifukube'

Sonata for Violin & Piano (1985)
Composed by Ifukube Akira, Violin Kobayashi Takeshi, Piano Umemura Yuko

1st Movement~ Allegro
2nd Movement~ Andante - Cantelena
3rd Movement~ Allegro Vivace

Dialogue on a Pastoral Ainu Song Poem (1956)

That Ancient Song
Song of the Death Island of the North Sea
Dance Song of the Mother-in-law and Yamanba

Local Customs Triptych for the Interior Orchestra (1937)
Composed by Ifukube Akira, Performed by (literally translated) New Star Sun Interior Orchestra, Piano Shimura Izumi, Conductor Ishii Maki

Home Province Woman
Teimube
Bakkai
17 & 18 sound like Ainu
February 27 1988 (Saturday) Suntory Hall