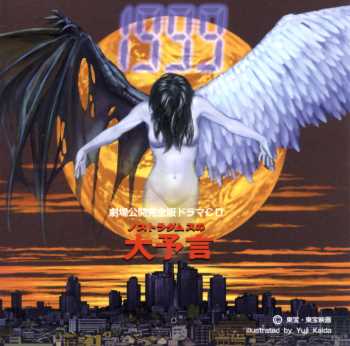 © 2008, 2016 Lawrence Tuczynski
Title:
Catastrophe 1999
Japanese Title:
Nosutoradamusu no daiyogen
Movie also known as:
Catastrophe 1999: The Prophecies of Nostradamus
Nostradamus's Great Prophecies
Propecies of Nostradamus: Catastrophe 1999
Prophecies of Nostradamus
The Last Days of Planet Earth (USA) (TV title)
CD Label:
GRYPHONE Inc.
CD Number:
TG-1010~11
Music by:
Isao Tomita / Toshiaki Tsushima
Number of tracks:
Disc 1 - 16
Disc 2 - 13
Running time:
Disc 1 - 56:59
Disc 2 - 56:36
Number of discs:
2
Year of release/manufacture:
1998
REVIEW

July 25, 2008

This 2-CD set is a bit of a mystery. It is NOT a collection of soundtrack music from "Catastrophe 1999". Instead, it is a straight recording of the entire film from beginning to end, including music, dialogue and sound effects. The movie was released in Japan August 3, 1974 and in the US July 13, 1979.

According to the book "Tokyoscope", this double CD (like the similar HALF HUMAN [2-CD soundtrack with complete dialogue] (TG-1012~13) was only made available as part of an elaborate boxed set of memorabilia related to the film (but not the film itself, which is now banned).

This CD is probably the only way to experience the narrative of the original Japanese film today (the butchered American version is a poor substitute). Unfortunately, the recording offers little to listeners who don't understand Japanese, so I would only recommend it to completists. Fans of the music would be better off with CATASTROPHE 1999 / THE WAR IN SPACE [OST Masterpiece Series] (VICL-5080) or CATASTROPHE 1999 (VPCD-81173) elsewhere on this site.
Catastrophe 1999
Track translations courtesy of Ted Johnson(added June 30, 2016)
Disc 1

Toho Mark/ Black Ships Come to Harbor
Pacific War End/ Nagasaki Military Police Interrogation Room
Flash! Main Titles
Nishiyama Institute for Environmental Studies
Return of Akira
City of Pollution
Yumenoshima - Giant Slug Occurrence
The Book Inherited Down Through the Centuries
Nature and Human Beings and the Future/ Red Tide Sea
In the Moonlight...
Doctor's Philosophy
Investigation Team Starts/ Future of Our Children...
Pollution Archipelago/ The True Humanism?
World Goes Mad/ Geneva International Discussion
To New Guinea
Swarm of Vampires
Disc 2

Dark Night Raid
Silence of Death/ Tragedy of the First Survey Team
Big End Panorama
Nobuo's Disease
End of the Riots
Shining of Beautiful Maidens, Will Not Shine Anymore...
Hunger Archipelago
Death of Nobuo
Illusion of the End of the Century
Eternal Life
Warning to Humanity
Catastrophe 1999 - Inherit the Stars
Human Anthem - Hope to the Future