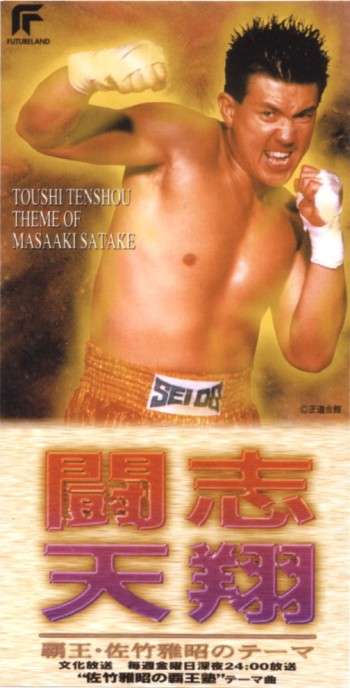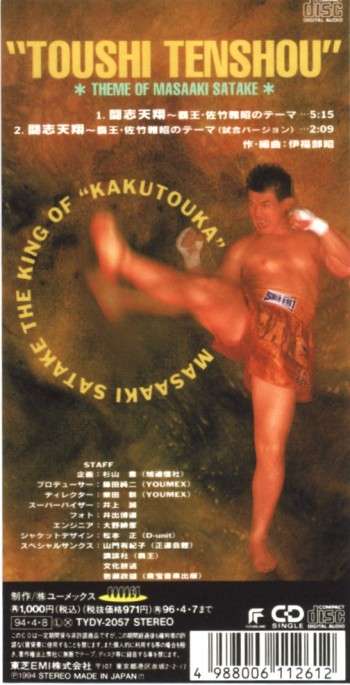 © 2003 Lawrence Tuczynski
| | |
| --- | --- |
| Title: | AKIRA IFUKUBE: "TOUSHI TENSHOU - THEME OF MASAAKI SATAKE" (Single) |
| CD Label: | Futureland |
| CD Number: | TYDY-2057 |
| Music by: | Akira Ifukube |
| Number of tracks: | 2 |
| Running time: | 7:24 |
| Number of discs: | 1 |
| Year of release/manufacture: | August 4, 1994 |
REVIEW

October 03, 2003

This is a pretty nice CD single with an Akira Ifukube march we've heard many times in many movies. Track 1 runs 5:15. Track 2 is the same music with a shorter running time and added sound effects such as the roars of Godzilla, Rodan (Radon) and Ghidrah.

Additional info courtesy of Sam Scali, October 04, 2003

Masaake Sataki is a famous kickboxer in Japan, and he used this song as his theme music in 1994 (like many of the WWE wrestlers have their own themes). It is a re-recorded version of the "Monster Zero March" (aka "Frigate March"), including a few bars from the main title of "The Little Prince and the Eight-Headed Dragon". Track 1 is the full version (5:15), and track two is a shorter edit (2:09) that features monster sound effects. A different short edit (2:38) without sound effects appears as a bonus track on the "AKIRA IFUKUBE SFX MOVIE MARCH COLLECTION" CD (TYCY-5412).
AKIRA IFUKUBE: "TOUSHI TENSHOU - THEME OF MASAAKI SATAKE" (Single)
Original composer Akira Ifukube
Toushi Tensho ~ Champion Masaaki Satake's Theme (5:15)
[aka "Monster Zero March" (aka "Frigate March")]
Toushi Tensho ~ Champion Masaaki Satake's Theme (alternate version) (2.09)
[aka "Monster Zero March" (aka "Frigate March")]