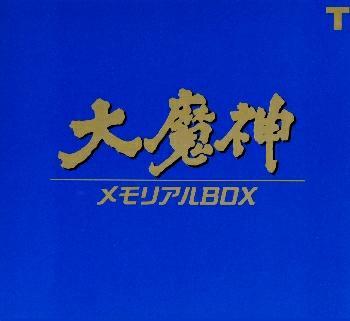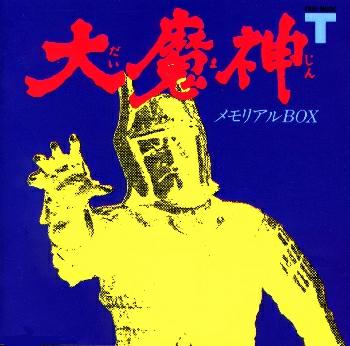 © 2000 Lawrence Tuczynski
Title
Majin Box Set
CD Label
Tokuma
CD Number
TKCA-30295
Music Composed by:
Akira Ifukube
Number of tracks
Disc 1 - 18
Disc 2 - 12
Disc 3 - 18
Running time
Disc 1 - 43:40
Disc 2 - 36:09
Disc 3 - 49:02
Number of discs
3
Year of release/manufacture
1991
REVIEW

May 12, 2000

This is a nicely packaged 3 disc set of music and dialogue from the three Majin movies. Nicer still is that it is priced about the same as a 2 CD disc. The set comes in a cardboard box with foam insert holding a 19 page color booklet and the three discs in individual cloth slip cases.

The single "Majin" CD on Nippon Columbia #COCC-13080 contains most of the same music that is on this set. What this set also gives you is dialogue and sound effects on approximately every other track. The music here is well done and a pleasure to listen to and doesn't get repeated too many times. Each CD here is devoted to one of the movies.

Overall this is a good CD as is the single CD on Nippon Columbia. Either CD is worth owning but both are going to be very hard to find. I think I lucked out finding this set and am still looking for the single CD which I only have a CDR of at present.


English Title:  	Majin
Japanese Title:  	Daimajin

Disc 1
From "Majin"

 1.	DB-TOP
 2.	DB- Without NO
 3.	DB-2
 4.	DB-PS10A
 5.	DB-7
 6.	DB-8
 7.	DB-10
 8.	DB-12
 9.	DB-14
10.	DB-17
11.	DB-22
12.	DB-23
13.	DB-24
14.	DB-26
15.	DB-30
16.	DB-32
17.	DB-36A
18.	DB-37A

Disc 2
From "The Return of Majin"
Japanese Title: "Daimajin Ikaru"

 1.	DB-1
 2.	DB-4
 3.	DB-7
 4.	DB-10
 5.	DB-PS44
 6.	DB-27
 7.	DB-29
 8.	DB-33
 9.	DB-35
10.	DB-35 (2nd half)
11.	DB-38
12.	DB - Last

		
Disc 3
From "Majin Strikes Again"
Japanese Title: "Daimajin Gyakushu"

1.	DB-1
2.	DB-3
3.	DB-4
4.	DB-5
5.	DB-6
6.	DB-7
7.	DB-8
8.	DB-9
9.	DB-10
10.	DB-11
11.	DB-12
12.	DB-15
13.	DB-16
14.	DB-17
15.	DB-18 (1st half)
16.	DB-18 (2nd half)
17.	DB-19
18.	DB - Last