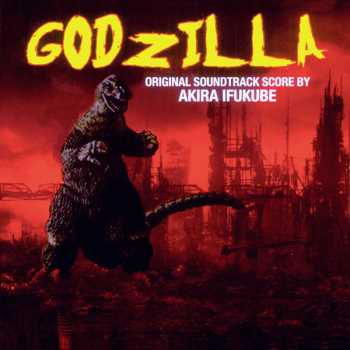 © 2014 Lawrence Tuczynski
Info and scans courtesy of David Hirsch
| | |
| --- | --- |
| Title | GODZILLA (1954) |
| CD Label | Harkit Records |
| CD Number | HRKCD-8495 |
| Music by: | Akira Ifukube |
| Number of tracks | 26 |
| Running time | 46:28 |
| Number of discs | 1 |
| Year of release/manufacture | May 12, 2014 |
REVIEW

July 24, 2014

Info courtesy of David Hirsch

Harkit Records web site: http://www.harkitrecords.com/main.html

This is actually a re-issue of the La-La Land Records CD (LLLCD-1022) I assembled for them 10 years ago to celebrate the 50th anniversary. For that release, I re-edited the cue "Tragic Sight of the Imperial Capital" to remove the crying baby FX that had been presented on all the previous Japanese releases. I sent them four tracks from the isolated score for James Nelson to re-master so that we could showcase the main title and Godzilla's attack on Tokyo in their edited film presentations.

Harkit chose not to re-issue the original Futureland (TYCY-5345) or Toho (G-001) CDs, but ours, which is kind of flattering. It's important to note that this is not considered a bootleg, despite the lack of proper copyrights and credits. In the EEC, this music is now in the public domain, which explains Harkit's ability to re-issue expanded soundtracks to the James Bond films "Dr. No" and "From Russia with Love". Several other Ifukube scores saw limited releases as well, like "Battle in Outer Space".
GODZILLA (1954
GODZILLA
MAIN TITLE
SHIP MUSIC/SINKING OF EIKO-MARU
SINKING OF BINGOU-MARU
ANXIETIES ON OOTOJIMA ISLAND
OOTOJIMA TEMPLE FESTIVAL
STORMY OOTOJIMA ISLAND
THEME FOR OOTOJIMA ISLAND
JAPANESE ARMY MARCH -1
HORROR OF WATER TANK
GODZILLA COMES ASHORE
GODZILLA'S RAMPAGE
DESPERATE BROADCAST
GODZILLA COMES TO TOKYO BAY
INTERCEPT GODZILLA
TRAGIC SIGHT OF THE IMPERIAL CAPITAL
OXYGEN DESTROYER
PRAYER FOR PEACE
JAPANESE ARMY MARCH – 2
GODZILLA AT THE OCEAN FLOOR
ENDING
GODZILLA LEAVING

* Bonus tracks

MAIN TITLE (FILM VERSION)*
FIRST LANDING (FILM VERSION)*
TOKYO IN FLAMES (FILM VERSION)*
LAST ASSAULT (FILM VERSION)*