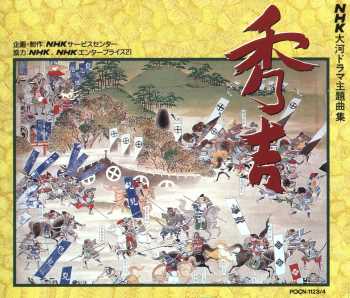 © 2006 Lawrence Tuczynski
ALL scans and info on this page courtesy of Jurgen Himmelmann
Title
NHK EPIC DRAMA THEMES
CD Label
Polydor
CD Number
POCN-1123~4
Music by:
Various
Number of tracks
CD1 - 26
CD2 - 15
Running time
CD1 - 61:25
CD2 - 52:08
Number of discs
2
Year of release/manufacture
April 01, 1996
REVIEW

February 10, 2006
Courtesy of Jurgen Himmelmann

NHK EPIC DRAMA is a highly recommended DoCD with many wonderful Main Themes.

Here we can find many composers we know about: For example Isao Tomita composed "Catastrophe 1999", Yasushi Akutagawa we know from AKIRA IFUKUBE: WORKS FOR ORCHESTRA (FOCD-3245) & JAPANESE CHORUS SONG COMPOSER SERIES 3 (VICC-60043), Toru Takemitsu composed "An Ocean to Cross" and "Ran" (SLCS-5073) & (Milan 883-499), Masaru Satoh is the composer of four Godzilla scores, Shinichiro Ikebe wrote the music for "Kagemusha". Reijiro Koroku composed "Godzilla 1984", here his score "Hideyoshi" is the only one we get more than just Main Title music (CD2, track 9 -15).

Most of the themes have a powerful and epic feeling, some even use a chorus. There are only a few exceptions: Track 5 (CD2) is a pop song, one of the Isao tracks sounds like "Media Ventures" music.

This DoCD still is available at ArkSquare. An extended review you will find in the German film music Magazine "Cinema Musica" Nr. 1.
NHK EPIC DRAMA THEMES
Disc 1
ISAO TOMITA - (1963) HANA NO SHOGAI (Life of Flower) - Main Title
YASUSHI AKUTAGAWA - (1964) AKOU ROUSI - Main Title
IRINO YOSHIRO - (1965) TAIKOUKI - Main Title
TORU TAKEMITSU - (1966) YOSHITSUNE MINAMOTONO - Main Title
MASARU SATOH - (1967) THREE SISTERS (San Shimai) - Main Title
MICHIO MAMIYA - (1968) RYOMA GA YUKU (Ryoma Goes) - Main Title
ISAO TOMITA - (1969) TEN TO CHI TO (Heaven and Earth) - Main Title
MITSUMASA YODA - (1970) KASHINOKI WA NOKOTTA (An Oak Tree Was Survived) - Main Title
AKIRA MIYOSHI / MICHIO MAMIYA - (1971) HARU NO SAKAMICHI (A Spring Hill) - Main Title
ISAO TOMITA - (1972) SHIN HEIKE MONOGATARI (New Tale of Heike) - Main Title
HIKARU HAYASHI - (1973) KUNITORI MONOGATARI (National stealing story) - Main Title
ISAO TOMITA - (1974) KATSU KAISHU (Kaishu Katsu) - Main Title
JOJI YUASA - (1975) GENROKU TAIHEIKI - Main Title
NAOZUMI YAMAMOTO - (1976) - KAZE TO KUMO TO NIJI TO (The Wind, The Clouds and The Rainbow) - Main Title
HIKARU HAYASHI - (1977) KASHIN (Flower God) - Main Title
SHINICHIRO IKEBE - (1978) OUGON NO HIBI (Days of Gold) - Main Title
JOJI YUASA - (1979) KUSA MOERU (The Grass it burns) - Main Title
RYUDO UZAKI - (1980) SHISHI NO JIDAI (The Age of The Lion) - Main Title
KOICHI SAKATA - (1981) ONNA TAIKOKI - Main Title
SHINICHIRO IKEBE - (1982) TOGE NO GUNZO (A Sculptured Group of The Mountain Pass) - Main Title
ISAO TOMITA - (1983) TOKUGAWA IEYASU (Ieyasu Tokugawa) - Main Title
HIKARU HAYASHI - (1984) SANGA MOYU (Nature is Burning) - Main Title
MASARU SATOH - (1985) HARU NO NAMISHIBUKI (Sea Spray in Spring) - Main Title
KOICHI SAKATA - (1986) INOCHI (Life) - Main Title
SHINICHIRO IKEBE - (1987) ONE EYED DRAGON (Dokugan-ryu Masamune) - Main Title
NAOZUMI YAMAMOTO - (1988) TAKEDA SHINGEN - Main Title
Disc 2
KOICHI SAKATA - (1989) KASUGA NO TSUBONE (A Court Lady of Kasuga) - Main Title
TOSHI ICHIYANAGI - (1990) TOBUGA GOTOKU (Like Flying) - Main Title
SHIGEAKI SAEGUSA - (1991) TAIHEIKI - Main Title
KURODO MORI - (1992) NOBUNAGA (KING OF ZIPANGU) - Main Title
SHINJI TANIMURA / JUN HASE - (1993) RYUKYU NO KAZE (DRAGON SPIRIT) - Main Title
YOSHIHIRO KANNO - (1993) HOMURA TATSU - SURGING FLAME - Main Title
SHIGEAKI SAEGUSA - (1994) HANANORAN (Rebellion of Flower) - Main Title
SHINICHIRO IKEBE - (1995) HACHIDAI SHOGUN YOSHIMUNE (EIGHTH SHOGUN YOSHIMUNE) - Main Title
REIJIRO KOROKU - (1996) HIDEYOSHI - Main Title
REIJIRO KOROKU - (1996) HIDEYOSHI - Destruction Heaven
REIJIRO KOROKU - (1996) HIDEYOSHI - Dreamland
REIJIRO KOROKU - (1996) HIDEYOSHI - Love
REIJIRO KOROKU - (1996) HIDEYOSHI - Destiny
REIJIRO KOROKU - (1996) HIDEYOSHI - Wandering
REIJIRO KOROKU - (1996) HIDEYOSHI - Vision